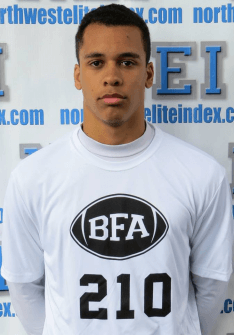 Good news for Oregon's top ranked corner as Tristen Holmes (6-2 195 15′ CB/ATH) of North Medford received his first D1 offer. The University of Idaho extended a scholarship with the Vandals making a nice move.
Holmes is one of the top overall athletes in the state, earning 1st team all league honors on the football field while being named the 2014 SWC Player of the Year in Basketball as well. He is a 4.0 student and legitimately one of the most humble kids you will ever come across.
Referencing the scholarship Tristen says, "I am extremely grateful for the offer and excited for the opportunity to play at the next level". He continued, "It's definitely a blessing and I am going to do my best this year to prove that I can compete at the highest level collegiately."
Tristen can play multiple spots on the field including the corner or safety position on defense. He had 39 receptions for 686 yards and 7 TD's offensively, helping the Black Tornado (10-2) to their first conference title in a decade last season.
He comes from a very athletic family with his cousin Tyrone being a potential All American candidate at Montana this upcoming year. Fellow cousin Austin is heading to play ball in Missouri, while younger brother Tre' will be one of the top players in Oregon for the 2017 class.
The Holmes name has become the standard when referencing what you want in a student/athlete. Grades come first and that is not up for debate. Tristen is currently being courted by numerous other D1 schools and will have multiple options before he is done.
Expect to hear much more from Holmes over the course of the season. He is an even better kid than athlete.