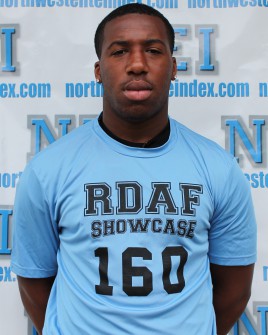 Saying a player is on the "rise" can really mean many things. Often it applies to an athlete that has an offer and begins picking up bigger offers as more schools take notice.
In the case of Dario Haynes, it refers to an athlete that was not on many radars, and is really starting to pick up steam.
Haynes is a two-way standout for North Thurston (Lacey, Wash.) High School just outside Olympia. While he saw significant playing time as a junior, his film really did not stand out right away. So Haynes took it upon himself to get noticed.
"I got to multiple camps and listened intently to the instruction given by the coaches," Haynes told NEI. "I work out daily on my own, practice fundamentals and critique my progress with my father. I am hoping to get the opportunity that I have been eagerly waiting for. I am virtually unknown and my plan is for that to change."
The six-foot-two inch, 225 pound, Senior to be spent the first eight years of football playing mostly wide receiver and safety, but as he continued to grow, he has made the transition to tight end and defensive end.
"It wasn't a hard transition because I enjoy the game and being on the field is better than being off," Haynes said. "My favorite motto is 'Everything Is Earned Not Given'. My parents who are from Panama raised me to always work hard and you can earn what you strive for.
"I am still learning techniques at defensive end, but I use the footwork and explosiveness on the start that I have learned as a tight end to help develop my defensive game."
Excelling on both sides of the ball can be good for an athlete in terms of opening up options, but Haynes has started to realize his future may be brighter of one side of the ball.
"I like Tight End, but at 6'2 I know I am a little undersized for most Universities," Haynes noted. "Even though I have been told by coaches that I have great hands, run good routes and that I am very physical. But now that I have been learning more defensive end techniques, I am really enjoying it."
The Rams finished a disappointing 5-5 last season, amid high expectations of a strong senior class. They do return plenty of high quality talent this coming season, including 22 seniors.
"We are striving to get to the playoffs and show that we are better than the predictions," Haynes says. "We are an underdog in our league, but we plan to put North Thurston on the map again."
North Thurston starts the season on September 5th, against rival Timberline. The Blazers move up to 4A this season, and should be a tough test for a Rams squad looking to get off to a hot start. We will be sure to keep you updated on Dario and his teammates.