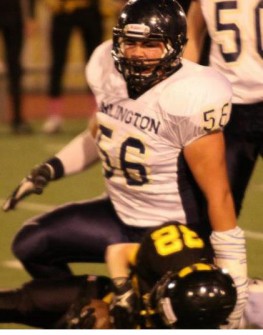 The 2016 recruiting class is really beginning to take shape. Athletes are being offered, some even committing, and all around we are starting to see which athletes stand out above the rest. Beni Madrigal-Ries of Arlington High School is beginning to make his case as one of the top DT's statewide.
"The RDAF Showcases was probably one the best experiences I've had as a football prospect because of the college exposure and the competition that was there," Madrigal-Ries told NEI. "I feel the main reason I preformed as well as I did was that one I trained very hard over this past year for the upcoming football season. Second off, I was unable to attend last years due to a camp conflict, so I was very hungry to compete and show my abilities off at this years event.
"Being named MVP was a very rewarding feeling for me because let me know that all my training and camps I had been attending were paying off and it lets me know where I'm at and what I still need to improve on. MVP here was a big goal for me and I achieved it and makes me hungry for more"
Madrigal-Ries was voted as an MVP for good reason. He showed a good first step, quick hands and when needed he showed power that most don't have in this state.
Standing six-feet tall, some may consider Madrigal-Ries to be undersized, but he makes up for it with a work ethic many other athletes could learn to live by. The term 'Take No Days Off' is popular around the Arlington football program, and is something Madrigal-Ries takes seriously.
He also takes school seriously, and sports a 3.56 GPA to prove it. Madrigal-Ries plans to elevate his GPA over the next two years, while also improving on the football field.
"I feel like next season is going to be one of my most important seasons ever especially after coming off a nice sophomore season and now being much stronger and faster," Madrigal-Ries said. "Some of my goals for this season include to lead the team in sacks and tackles for a loss, my goals for this season also include showing people who I am. Making them remember the name.
"I would like to earn some All-League honors if not All-Area, possibly All-State."
The Eagles finished 5-5 last season as part of the Wesco 4A North Division. This year they move to the 3A classification, and will play in the 3A North Division, where they could make some real noise.
"We have been working very hard in our summer workouts and in our spring camp, we learned a lot of our strengths and weaknesses," Madrigal-Ries noted. "I feel it is good for us, so we know what we need to work on. As a whole I feel like we can be a strong group even though we lost some key players.
"Some of our team goals are to start the season off strong with a win over cascade in our first game. We also to be better than 5 and 5 in the win loss column, and make the playoffs, which we are very excited for after not making them last season, that is one of our biggest goals."
Arlington returns some nice pieces next season, and it will be interesting to see how they replace Max Gray (Chadron State), who did a little bit of everything last season.
I look forward to watching Beni over the next few seasons and will be sure to keep you updated as news breaks.