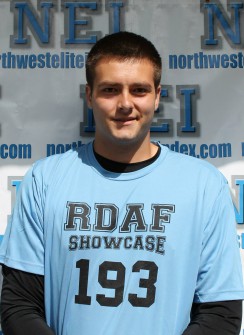 Great news out of the Emerald City where TE Erik Rottsolk ('15) of Lakeside has committed to play at Fordham University in New York City.
Fordham is a D-1 FCS school, playing in the Patriot League, and finished the 2013 season 12-2. They are the overwhelming favorite to win the League this coming season, with some polls having Fordham ranked as high as 11th to start the season.
So why did Rottsolk pick Fordham over Montana and Montana State?
"Fordham just offers an amazing education and it's location is unbeatable," Rottsolk told NEI. "Also they gave me the opportunity to play tight end. Many other schools that were waiting on me to switch to tackle to give me an offer."
Rottsolk is still young in terms of football, as he has spent most of his life as a basketball player, so his ceiling is considered to be rather high. He spent the offseason travelling to camps/Junior days, doing his homework on which school he would like to attend.
"I visited Fordham this past weekend and was there Saturday and Sunday," Rottsolk said. "I knew I was going to commit a month ago. I just wanted to see the school and meet the coaches before committing. At the end of the weekend my dad and I "officially" met with the head coach and I committed."
With recruiting now out of the way, Rottsolk turns his full attention to his team. The Lions finished last season at 7-3 as an Independent, but will move back to a full Metro League schedule this coming season.
"We have been saying 1-0 all offseason and that is what I am going to say now," Rottsolk noted. "Our goals are to go up to Canada game one and take care of business at Mission Secondary. Take every game one by one and see if we can do some damage and make playoffs for the first time in I don't know how long.
"We have been out of Metro for the last three years and we are excited to see what we can do with an extremely talented squad."
It has been fun watching Erik grow the past few years, and it is now more fun to see him committing to a school that offers everything he is looking for.