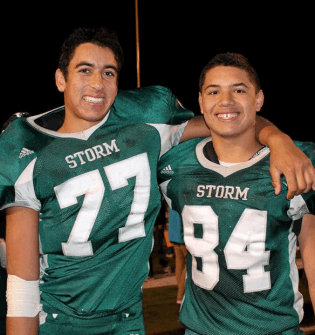 One of the top athletes in the State of Oregon for the 2016 class is Cam McCormick (6-5 225 TE/DE) of Summit HS in Bend. He was an all conference kid on both sides of the football in 2013 and will be called upon a great deal over the next two seasons.
McCormick will be ranked one of the top dual threat athletes in the region for his class as you can't teach size and overall athleticism. He is a three sport athlete that is already receiving interest from multiple high profile D1 schools.
Cam ran a (11.35) 100 yard dash this past year, qualifying for state in the 4 x 100 and the long jump during the track season. He led his team in sacks as a sophomore (6), also tallying (9) tackles for loss. Offensively he had double digit receptions, with multiple TD's on the year.
The Storm went (5-6) last season during a much improved 2013 campaign. They bring back one of the top HS coaching staffs anywhere in the country, led by Head Coach Joe Padilla and multiple NFL names in Drew Bledsoe, Neal Elshire, and Kevin Boss.
NFL vet Elshire (Oregon Ducks, Minnesota Vikings) has been Mountain View's DC for the last 5 years and has moved over to Summit as Padilla says, "Neal is now mentoring Cam and has been very impressed, saying that he could be a big time player at the next level." This coming from an individual that has played against the best.
McCormick has already received interest from the Ducks and Colorado as the Oregon coaches potentially see him as a strong side linebacker.
The Storm have legit Sophomore and Junior groups returning, with limited #'s in this year's 2015 class. They will be young but have a lot to look forward to. Former NFL All Pro Bledsoe has two talented son's returning with his youngest (John) looking like a very promising QB.
Cameron could very well be one of the most recruited athletes to come out of Central Oregon in some time. He is a 3.5 student and is just an overall good kid. Summit is one of the fastest rising teams in the state at the 5a level and McCormick is a big reason why. Expect to hear much more from him and the Storm moving forward.