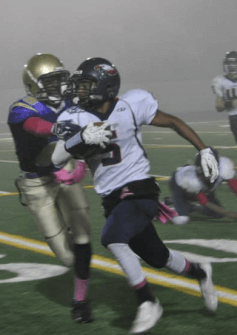 The Lindbergh Eagles (Renton, Wash.) appear once again to be one of the top teams in the Seamount League this coming season, and a big reason for that is the play of D'Angelo Faust ('15).
While Faust may not be household name, he has big time potential for a breakout season in 2014, as he will become one of the focal points of a high powered Lindbergh offense.
"Devon (Jackson) and I will probably be getting the ball the most from what we've worked on this offseason," Faust told NEI. "Our speed is gonna be hard to stop, it's going to be a good year for the both us. Coaches have told me I'm going to get a lot of carries and some receptions so I'm just going to make plays every time I touch the ball."
After helping the Eagles to a 10-1 record last season, including a Seamount League championship and a state tournament appearance, Faust embarked on an offseason set to prepare himself to take the punishment of being an every down type back.
"This offseason I've been focusing on trying to gain muscle and just get faster because I know I'm getting a lot more involved in the offense," Faust said. "I've also been working on just staying focused. Everybody on are team knows if we can stay focused, execute our assignments and play hard, we should take this league like we did last year undefeated."
Speed is the name of the game for the Eagles, running an up-tempo Oregon style offense. Being undersized at just five-feet-seven and 160 pounds, Faust more than makes up for it with speed, running a 4.49 40-yard dash.
While recruiting is on the slow side right now, Faust isn't worrying about that. He knows that if he plays well he will see recruiting pick up as the season gets deeper into fall.
For now he is setting goals, he would like to get in the 25 TD neighborhood, that will help his team reach their ultimate goal.
"My team goals are for us to all push each other and be there for each other the whole season," Faust says. "I feel like we fell apart at the end last season and that's why we lost to Mark Morris. Also I want us to get more recognition then we do I feel like we don't get respected enough because we're in the Seamount, but all we can do is just keep winning for now.
"Lastly, I, like any other player would tell you, just want us to get to the Tacoma Dome. Our school has never been there and that would be the best feeling to go out your senior year knowing you were the best in the state or battled with the best in the state."
Faust is setup to have a big senior season, and I look forward to following his continued progress.