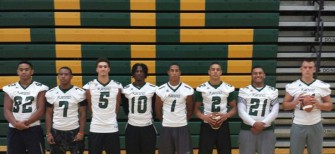 The fastest rising team in the Pacific Northwest could very well be the Evergreen Plainsmen. Head Coach Don Johnson may have done it again, breathing life into a down and out program and putting the team in contention after a single season. The kids out of SW Washington went a combined (4-23) from 2010-2012 before Johnson's arrival.
Last year's 4-5 season doesn't really tell the story as they lost to three traditional GSHL powers (Camas, Union, Skyview) in what turned out to be a rebuilding year. Looking at the roster the Plainsmen feature what could legitimately be double digit D1 kids, with the secret being an elite D line.
Utah commit Justice Murphy (6-1 195 15′ WR) is one of the top receivers in the West and a kid that won't be outworked. He MVP'd multiple events this off season and was a standout on our 7 on 7 Vegas squad. Murphy will require a constant double team if you want to contain him as you can expect him to flourish in Johnson's system.
Rey Green (5-11 195 16′ RB) will be another high profile kid, projecting as one of the top 3 backs in the state for the 2016 class. He has already been offered by Montana St after rushing for 1,095 yards and 11 TD's last season. Look for him to have a breakout year as he is another kid that takes his football very seriously.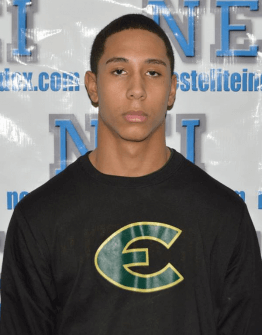 Kobey Eaton (6-3 185 15′ FS/WR) will be a 4 year varsity athlete, originally starting at QB. He currently sits on the D1 bubble with multiple schools as his (3.8) GPA and (10.9) 100 yard dash are very appealing. Eaton was another kid that excelled in the secondary at Vegas.
Two top ranked transfers will also make a big difference in Billy Nelson (6-1 200 15′ RB/CB) and Jerrin Williams (6-1 195 QB/DB). Nelson made the move from Roosevelt (Portland, OR) after some off the field issues, while Williams transferred from North Salem as the Vikings continue to struggle as a program.
Jerrin was a two time all conference QB in 2012 & 2013 and is high on multiple D1 recruiting boards from his DB spot. He could also be one of WA's breakout players of the year state wide from his QB position. Nelson is a legit D1 kid, already being offered before this off season. He went for 915 all purpose yards and 11 TDs last year, averaging 14.4 yards per carry.
These 5 D1 skill kids will help lead the offense with Sophomore standout Marques Sampson (5-6 150 17′ Slot) getting in the mix after scoring 26 TD's at the JV level as a freshman. Brandon Bea (6-3 215 16′ QB) will return at quarterback.
If this wasn't enough Evergreen features maybe the state's top sophomore corner in Nathaniel Trevino (5-10 180 17′) and a kid that Johnson calls, "Potentially one of the top players in the country for his class", in freshman phenom Dustin Nettles (6-3 175 18′ ATH). We will hear a great deal more from these two in the near future.
The Plainsmen have the skill kids to run with any team in the region. The O line play will be key to making this happen as Andy Tran (6-0 230 15′), Ray Salanoa, (6-3 300 17′), Mikel San Nicholas (6-0 230 15′), Brendan Tilgner (6-3 240 15′), and Tyler Harmon (6-4 315 15′) represent the up front cast.
As referenced earlier the D line could be one of Washington's best with 4 kids all receiving significant D1 interest. Austin Wright (5-11 240 15′ DT) earned 2nd team all GSHL honors in 2013, also competing on a national level in wrestling.
The other three come with legit size and speed in Isaiah Lukebman (6-3 240 15′ DE), Cameron Coffler (6-3 250 17′ 250), and J.R. Matea (6-3 235 16′). Johnson says, "Even with all of the D1 skill kids this will be the heart of our team". Adding, "They will wreak havoc in people's backfield."
Add to this a legit returning LB crew and the Plainsmen are in good shape. 2nd team all league LB DJ Roberts (6-0 230 16′) returns after a phenomenal sophomore year. Mitch Carnahan (6-3 220 15′), Bishop Brown (5-10 200 15′), and Eric Stafford (6-1 195 15′) are the other individuals that will contribute.
Johnson is big on academics and making sure his athletes get their work done on and off the field. Any kid that has played for him will tell you he has a no nonsense approach. The work done at Milwaukie High School in Oregon, during the 2012 season, was a testament to his influence as the Mustangs are traditionally one of the state's worst. He helped the group go (8-3) while being ranked in the top 10 before moving over to Evergreen.
Set aside all of the D1 and NFL talent that Johnson has coached in the last decade plus, and more than anything you get better men. Individuals that go on to succeed in life.
Johnson has put together one of the top coaching staffs in the region as the Plainsmen should challenge for a conference title. I will boldly predict an (8-1) regular season from the kids out of SW Washington. We will hear much more from the team in the coming weeks.