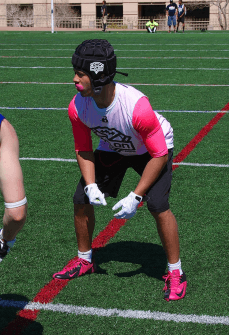 This has been a banner week on the Sammamish Plateau, as four highly talented athletes from Eastside Catholic committed to D1 programs. An athlete patiently waiting his turn is defensive back Terin Adams ('15).
The five-foot-eleven inch lockdown corner has been a standout performer the past two years on the Barton Football Las Vegas 7-on-7 teams. He has shown an ability to take away one side of the field, and making the transition to Eastside Catholic looks like it will only expand that possibility.
"It's been a great experience thus far at Eastside Catholic," Adams told NEI. "Juanita had a great influence on me and I am very grateful I had the opportunity to be a Rebel.
"I've learned more in the spring season this year than I have my entire high school career. The expectation level for us is much higher here and I look forward to stepping up to the challenge."
Adams has done a tremendous job this offseason at preparing himself for his senior year, as he would like to be more physical. He started by adding thirty pounds of good weight, and is now a stout 190 pounds.
"I want to be a force on the edge and a great tackling corner," Adams says. "I want to lock down my entire side of field. All in part of helping my team play great team defense. I'd also like to play great on special teams and help create great field position for my team."
Wondering if Adams could carry the weight, I saw the Crusaders at the Skyline 7-on-7 tournament. He will be just fine. If anything, I would say Adams may have raised his stock, as he now looks capable of playing any position in the defensive backfield.
It should come as no surprise that Adams is able to add that weight. After all, his dad was a 6'3″ 350 pound Super Bowl champion defensive tackle for the Baltimore Ravens, and played fourteen seasons in the NFL.
"It's a great experience," Adams said. "He helps me with everything from the field to the weight room to film. Its great to have someone with that expertise in my life to help give me the tools to achieve my goals."
In the end, Adams' goal is to win a State Championship, and move on to play college football.
He has positioned himself well to do both, and has seen his recruiting pickup as he has shown his abilities on a bigger stage.
Right now Adams is hearing from the schools all over the US, including Washington, Missouri, Boise State, Arizona, Wyoming, Cal, USC, Colorado, Colorado State, Hawaii, BYU, Oregon State, Oregon and Utah State. He is also hearing from a majority of Big Sky School, who appear could be the first to offer.
I look forward to watching Adams and the Crusaders this coming season, as they once again a team capable of bringing home some hardware in December.