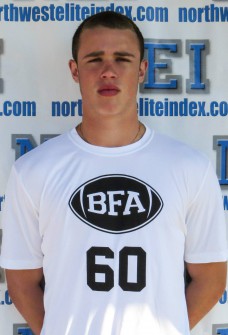 The 2014 football season is here, with games starting in less than two weeks, and an athlete that could have a breakout season is Christian Stafford of Todd Beamer (Federal Way, Wash.) High School.
Standing 6-foot-3 and 195 pounds, Stafford is a big physical receiver and does a tremendous job using his body to create separation from his defensive counterparts.
Stafford was a relative unknown after receiving honorable mention in the SPSL 4A South this past season. Since that day, there may not be a receiver in the state that has seen his stock rise like that of Stafford's.
"I attribute my rising stock to a lot of hard work in the weight room and on the field," Stafford told NEI. "I never miss an opportunity for training whether it is team training or personal training. I have gotten involved with Barton Football and it has made a tremendous influence on my playing. I have learned so much from Mike Bush as far as being the best WR I can be.
"I was invited to Las Vegas for the Pylon 7 on 7 tournament representing the Northwest and Barton Football. I met a lot of great players and learned a lot of fundamentals of the game. I also participated in the Rough Diamond Showcase where I was able to stand out as a receiver."
Since attending those events, and receiving added exposure, Stafford is now talking to the likes of Montana, Montana State, Carroll College, Rocky Mountain College, Wyoming, Eastern Washington, Idaho State and UC Davis.
With the fall camp now underway, Stafford has turned his full attention to the upcoming season. He has set goals both personal and team related.
"My goal is to be an explosive target for my high school team and to get more touchdowns and yards than last year," Stafford says. "As an offensive player, I hope to make my opponent have to defend the entire field and to be personally sound in the fundamentals.
"I will also be playing free safety where I hope to be able to adjust to sets, shifts and motions and gain interceptions for my team. I want to be tough mentally and physically and to show my teammates leadership and dedication to our program."
You will notice changes this season in the SPSL, as reclassification has brought the four Federal Way Schools (Beamer, Federal Way, Thomas Jefferson and Decatur) together with Mount Rainier High School from Des Moines. While the schedule may look different, the ultimate goal has not changed.
"Our team goals are to be a program the entire student body and community can be proud of both on and off the field," Stafford noted. "We want to be 4A State Champions. We will practice, prepare and work like champions."
Stafford is the definition of the term Student-Athlete, and has a 3.8 GPA, while taking mostly Honors and AP courses, to prove it. He will actually graduate with six full years of mathematics. He is a four year member of the National Honor Society, while also participating in Young Life as a Student Leader, and volunteering in the Middle School track program.
I look forward to watching Stafford and the Titans this coming season, as they appear to be a playoff caliber team, and will be sure to keep you updated on his progress.