1. JESUIT – The Crusaders started 7 sophomores in last years state title game, and will have two way threat Chase Morrison (5-10 185 15′ RB/CB) returning after going for over 2000 yards and 30 Td's in 2013. The one question mark will be on the line where they return all state lineman Nick Miller (6-2 265 15′ G/C), but are without their traditional 6-5 big's.
Eric Restic (6-0 165 16′ QB) is back after leading the group to last year's state title game as a Sophomore. He is ranked one of the top junior's quarterback's in Oregon after throwing 19 TD's/6 INT's. He will have the services of returning 2nd team all league fullback Jason Talley (6-1 205 16′) who could also see time at the half back spot with Morrison. He is the brother of record breaking tailback Jordan Talley, now at Eastern Washington.
Jesuit and Head Coach Ken Potter will forever be a run first group, but they have skill kids up and down the board, led by six additional junior's all ranked at the top of the charts at their position. Zach Houlemard (6-1 185 16′ ATH/CB), Jordan Happle (6-1 190 16′ S), and Donovan Baldocchi (5-10 175 16′ DB/ATH) will be key. Houlemard is one of the top two way threats in the state and could very well fill a role similar to Trent Werner. Happle led the team in INT's as a sophomore and is considered one of the top DB's in the state, while the Baldocchi name is prominent in the football community as the kid is legit.
Nate Heaukalani (6-1 200 16′ S/LB) and Mike Petroff (6-1 225 16′ LB) will be considered two of the top LB's in Oregon for the 2016 class, both starting in last years championship game. Matt Ferguson (5-11 185 16′ ATH) is another kid you don't want to sleep on.
All of these skill kids equate to one of the top classes in school history. Paul Vickers (6-0 265 15′ DL) will be one of the elite lineman in the conference with Noah Paxton (6-4 260 15′ OL), Sam Brunson (6-3 265 15′ OL), and Junior Mitchell Franck (OL 16′) all getting an opportunity to prove themselves on the O line. They will get a chance early to show what they can do against the defending state champion and nationally ranked Central Catholic Rams In Week 1.
2. BEAVERTON– This will be the Beavers best team in some time but they haven't been able to make a playoff run since the departure of Faustin Riley. Last year's playoff road win over CVC champion Sprague was a springboard to this season. Junior Sam Noyer (6-4 200 15′) is a D1 QB and will be ranked Oregon's top Jr. Quarterback. He has legit talent all around him with Washington commit Jared Hilbers (6-7 275 OL/DL 15′) headlining a talented line group.
Bryce Barker (6-3 180 15′ WR/S) is a two time all conference kid and one of the top two way threats in the state. He will be a featured athlete on both sides of the ball and is a realistic D1 recruit. Stephen Marcille (6-0 165 15′ ATH) and Chidubem Nnoli (5-10 190 15′ RB) will be two other kids that should play a key role at the skill positions. Get used to the name Anthony Albright (5-6 165 17′ RB) as he will be a primary back and one of the top Sophomores in the state.
The Beavers have some of the top Junior lineman in Oregon led by John Butchett (6-4 290 16′ T) and Will Pome (5-10 300 16′ G/C). Zach Salu (5-10 280 16′ DT) will be a beast on the interior as the cousin of Oregon top lineman TJ Salu of Central Catholic.
Another strength will be at the backer spot where all conference returners Tovey Brown (15′ LB) and Casey Cornwell (5-9 180 15′ LB) are back after an outstanding Junior campaign. Brown comes from a football family and Cornwell is just a talented overall athlete and one of the top baseball players in the region.
It should be a good year for Beaverton with a host of kids returning next season. As referenced earlier they have a lot to prove and will get their opportunity in the traditionally tough Metro League.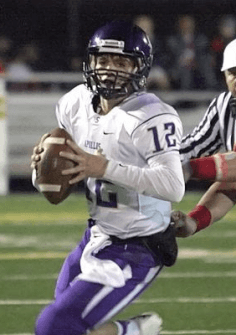 3. SUNSET– The Apollos lose some talented kids from last year, but bring back player of the year candidate Willy Pflug (6-0 175 15′ QB), and one of the top junior classes in the Northwest. Pflug is a gamer and single handily put the team on his back at times last season. Willy will have to remain healthy as the team will only go as far as he can take them.
2nd team all conference athlete Caden Carter (6-1 185 16′ RB/S) will return as he is considered one of the top junior's in the state, while Alex Stickel (6-2 180 16′ WR/S) and Cody Brown (6-4 210 16′ LB/TE) could be two of the breakout underclassmen of the year in Oregon. Stickel has legit size and is a player on both sides of the ball with Brown having a huge upside as the brother of D1 commit Josh Brown, now at PSU.
Senior's Kyle Degman (6-3 200 15′) and Matt Burton (5-11 170 15′ ATH/DB) had nice junior seasons and will be called upon for veteran leadership. Lineman Seth Wilson 6-2 235 15′ OL/DL) returns after an all league 2013 campaign and will be the leader upfront, among junior big men Quinn Fitzpatrick (6-7 275 16′ OL) and Eric Engholm (6-6 260 16′ OL). As most know Fitzpatrick has D1/NFL genes and will be considered one of the top lineman in the region for 2016.
New head coach Damien Merrick is well liked and will continue to have the mentorship of hall of fame coach Faustin Riley. Sunset will be a threat to grab the #2 spot.
4. WESTVIEW– The kids out of Rock Creek could challenge for the Metro #2/3 spot, with QB Austin Brisbee (6-3 175 15′) returning after earning Co Metro Player of the Year honors in 2013. They will also feature the state's top TE duo in Teagan Lind (6-4 220 15′ TE/DE) and Ian Myers (6-3 220 15′ TE/DE) who should also contribute a great deal on the defensive side of the ball.
The Cats made a nice run last season before getting blasted in the 2nd round of the state playoffs 54-7 at Grants Pass. Westview is not a tradition rich football school so it will be interesting to see how they come out this season with talented kids on the perimeter.
Trevor Bovero (5-10 185 15′ RB) scored multiple TD's in 2013 and will get the rock often. 2nd team all league lineman Ryan Giobetti (6-1 215 15′ OL/DL) will lead an upfront group that will be key to the teams success this year as the line is in question.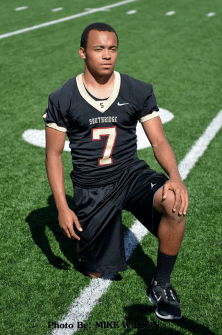 5. SOUTHRIDGE– The Hawks graduated 34 seniors and have lost the services of two of the state's top players, including Oregon's #1 ranked LB Pepe Tanuvasa. Talented TE/DE Nikko Thomas also made the transfer to Tigard.
Southridge will rely heavily on all everything athlete Derek Parnell (5-9 180 15′ ATH/CB), who will rarely leave the field. QB Peyton King (6-5 215 15′) is a big kid that can sling it and will be called upon to maintain consistency. He will have 1st team all league FB Zack Wilbur (6-0 200 15′ RB/LB) and talented athlete Mikey Parks (5-8 200 15′ RB/LB) to help carry the load out of the backfield. Isaiah Reel (6-1 175 15′ ATH) will be a factor on both sides of the ball.
Jeremiah Everett (6-0 245 15′ OL/DL) is one of the top lineman in the Metro with Junior's Huntley Sims (DL 16′) and Jacob Calo (16′ DL) looking like two of the better young defensive players in the conference.
The Skyhawks have a chance but they are relatively young and inexperienced. The expectations from a year ago are gone which is something that they will most likely embrace. If the kids out of Murrayhill want to compete in the Metro they will have to stay healthy and have some young kids step up.
6. ALOHA– Let's just say this isn't 2010. Get used to the name Parker Bull (5-11 195 16′ RB/LB) as the junior is one of the top athletes in the state. He will be the key for Aloha to remain competitive.
The Warriors will have the services of lineman Taylor Vaandering (15′ OL) who earned 2nd team all league honors as a junior, but overall it will be tough for new head coach Bill Volk with very little experience returning.
7. GLENCOE– The Crimson Tide got a great hire in Mike Fanger as he is a highly respected head coach . They will have a tough time in the Metro conference but have the right individual in place to rebuild.
Marquise McKinney (6-3 195 16′ TE/DE) will be one of the top junior's in the league, with Anthony Lambert (15′ RB) and Devin Jones 15′ ATH) being kids that will get their opportunities.
8. CENTURY– Coach Bill Smith is another outstanding individual that you love to have running your program. That said the Jaguars have lost a ton of talent from the previous two seasons and will need some kids step up.
Wilson Ngyuen (15′ DL), Kico Alvarado (6-1 200 15′ LB), and Jose Toledo (5-9 210 15′ LB) are back, earning All Pacific Conference honors last season. The Jags will need this experience as they return very few starters in what is usually a high powered offense. Sophomore Dereck Jackson (17′ RB) is a name that you will want to remember.