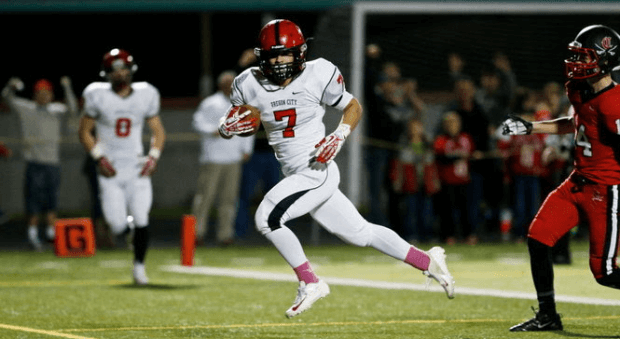 The State of Oregon will feature a number of talented Junior RB's in 2014. Have a look at some of the top young rushers in the region.
Conner Mitchell 5-9 190 Oregon City– Mitchell was maybe the most impressive sophomore in Oregon last season on the offensive side of the ball. He earned 1st team all league honors and will be a leading candidate for player of the year accolades. Connor went for close to 2000 all purpose yards and 15 TD's in 2013.
Ronnie Rust 6-1 200 Central Catholic– Rust and Breeze might be the most dangerous junior combo on the west coast if we are referencing kids that play on both sides of the ball. Ronnie went for 9 TD's, while earning All American honors defensively and the 2013 state championship.
Brady Breeze 6-1 200 Central Catholic– The Oregon commit will be ranked the state's #1 safety and maybe the other top RB in Oregon if the Rams want to use him there. He didn't run the ball much as a sophomore at South Medford due to the cast on his hand, but went off at the freshman level compiling 2800 yards rushing and 30+ TD's.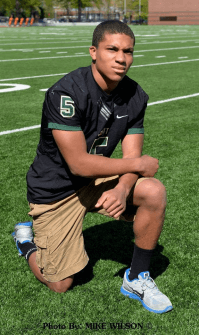 Jason Talley 6-1 205 Jesuit– Talley is big and fast and can play the fullback and tailback spot equally well. He earned 2nd team all league honors at FB last season and will split carries with 2000+ yard rusher Chase Morrison. He is the brother of record breaking Crusader RB Jordan Talley now at Eastern Washington
Parker Bull 5-11 195 Aloha– One of the top overall players in the NW. I can't say enough good things about Bull. He is incredibly explosive earning 2nd team all league honors on both sides of the football as a sophomore. He will project at the D1 level.
Jakob Eisenbeiss 6-3 200 RB Sherwood– Eisenbeiss will be a player of the year candidate before he is done. He is big, fast, and a 4.0 student that will have Ivy league schools beating down his door. He is equally talented defensively.
Caden Carter 6-0 185 Sunset – Caden was a 2nd team All conference kid as a sophomore. Something very tough to do in the Metro League. He will be considered one of the top dual threat athletes in the state for his class.
Devin Kaneshiro 5-7 165 Liberty – Kaneshiro isn't the biggest kid but he is legit. He went off as a sophomore earning 2nd team all league honors in the NWOC and should be one of the best in Oregon at the 5a level.
Max Mattern 5-11 195 Lake Oswego– Mattern will rarely come off the field and will be one of the top dual threat athletes in the TRL. He had an outstanding 2013 campaign earning 2nd team all league honors at LB
Richie Mock 6-1 195 Oregon City– Not a lot of people know about Mock due to Mitchell's success but he is one of the better backs in Oregon. Mock balled out at Putnam before transferring back to O.C.
Sam Katter 6-0 185 RB Wilson – Katter had an outstanding junior season filling in for PIL Player of the Year Tyler Lunceford, while carrying the ball 100 times for 719 yards and 6 TD's.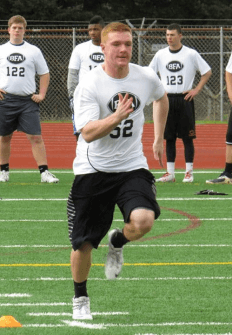 Alex Gradin 5-9 165 RB Tigard– Another potential breakout player of the year. Gradin will have Floyd and Inos in front of him getting the rock, but he will eventually get his turn.
Bryce Dickey 5-10 180 Clackamas– Dickey had a nice sophomore season behind TRL Player of the Year Daniel Sherrell. He carried the ball 28 times for 138 yards and 3 TD's while making 68 total tackles on defense.
Will Vermilyea 6-2 195 South Albany– Vermilyea was an all conference kid on the defensive side of the ball as a sophomore and has legit size. He could have a big year offensively
Holden Catlett 5-10 175 Lakeridge – Catlett had a nice sophomore season accumulating 747 all purpose and 2 TD's. He will off set the very talented Lopeti Aisea out of the backfield.
Colin Hyatt 5-10 175 Newberg– Hyatt ran the 2nd fastest 40 yard dash among 120 + kids at our Salem Camp/Combine and has the potential to have a breakout year for the Tigers.
Marquis Johnson 5-8 165 Roosevelt– If he can keep his academics straight he has the potential to be one of the PIL's best. His ability to accelerate and juke is impressive
Kobe Higgins 5-9 165 Sherwood– Carried the ball 9 times for 122 yards and 2 TD's and should be a featured kid in the coming years.
Nick Huggins 6-0 180 Canby – Look for Huggins to be a featured back in the Cougars run oriented offense. He carried the ball 26 times for 161 yards in 2013
Cavin Gillispie 5-10 190 Crater– Gillispie is a three sport athlete and started as a sophomore at LB. He is also one of the state's top wrestlers. Look for him to be the featured RB over the next 2 seasons
Jeff Lacoste 5-10 185 West Albany– Jeff is the brother of two former Oregon Players of the Year in Anthony and Jake. He rushed 24 times for 160 yards and 2 TD's in 2013 and has some big shoes to fill