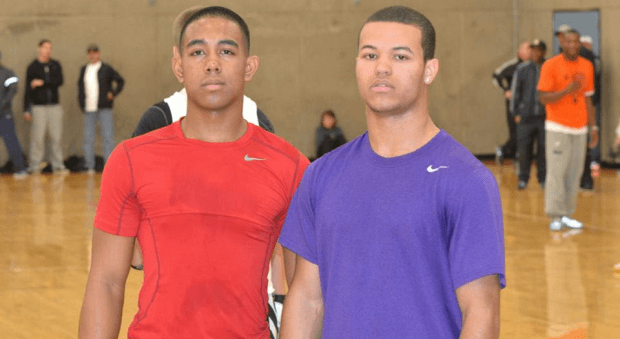 Have a look at the top skill kids for the class of 2016, as we continue to feature the Junior's returning in Oregon this season. This group has the potential of being one of the elite perimeter classes to come through the state in some time.
WR
Lamar Winston 6-3 205 Central Catholic– Most likely the state's top ranked receiver for the 2016 class. He is a phenomenal overall athlete and one of the region's top OLB's, earning 2nd team all league honors last season. He will require a consistent double team if you want to contain him.
Cody Coppedge 6-4 175 West Linn– Coppedge is the real deal, projecting at the D1 level after earning 1st team all league honors in the brutally tough TRL as a sophomore. He was an MVP at the RDAF Showcase in June and is also considered one of the top hoopers in Oregon.
Bryce Bumgardner 6-2 170 St Helens– One of the top dual threat athletes in all of Oregon. Bumgardner tied for the state lead in picks with Jordan Happle (4) among sophomores, also catching 24 passes for 386 yards and 3 TD's.
Shashi Penn 5-11 180 Ashland– Penn will be a 4 year varsity athlete, earning 1st team all league and 2nd team all state honors as a sophomore. He helped the Grizzlies to the MWC conference title and a state semi final appearance last season.
Robert Connor 6-6 185 Thurston– Connor has the potential of being one of the top recruits in Oregon. He is all of 6-6 and had a phenomenal sophomore season catching 21 passes for 331 yards and 7 TD's.
Alex Stickel 6-2 180 Sunset– One of the fastest rising players In Oregon. Stickel has legit size and is equally talented on both sides of the ball. Look for him to have a breakout year in the Metro.
Jackson Johnson 6-0 170 Sheldon– Jackson comes from a football family as Lane and Marty Johnson run maybe the classiest and most successful program in Oregon, covering the last decade +. Look for Johnson to have a big year.
Braydon Haas 6-3 180 Springfield– Haas comes from a football family with his brother Jordan being a standout 6-5 lineman. Braydon is rising quickly, and will be utilized often by MWC Player of the Year QB Trever Watson over the next two seasons.
Dustin Jones 5-11 170 Marist– Jones had a breakout Sophomore year catching 42 passes for 662 yards and 10 TD's. Look for Coach Geske to combo his talents with Trae Gould and other skill kids in the Spartan offense.
Ethan Snow 6-2 185 Hermiston– Snow had an outstanding 2013 campaign, catching 29 passes for 476 yards and 5 TD's. He will be a conference player of the year candidate over the next two seasons and is rising quickly
Jake Hamilton 6-1 170 Putnam– Hamilton is a very talented kid but the Kingsmen may struggle in the NWOC. We will see if they can get him the ball.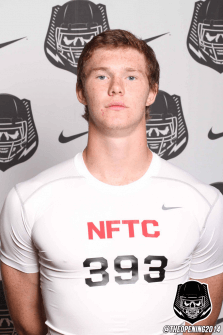 TE
Jacob Kizer 6-5 235 West Salem– Kizer will be one of the top recruits in the Northwest on both sides of the football. He is a legit D1 recruit that could have double digit offers before he is done. He is incredibly athletic for a kid 6-5 , running a (4.7) 40 yard dash.
Cameron McCormick 6-5 225 Summit– Another kid that projects as a high profile D1 athlete. His NFL HS coaching staff considers him a special player at the collegiate level. He caught 12 passes for 145 yards and 2 TD's in 2013, also running a 11.35 (100) Meters as a Sophomore.
Cody Brown Sunset 6-4 210 Sunset– Brown, much like Alex Stickel is rising quickly. He will be one of the top two way threats in the state from his OLB position, and is the brother of 6-6 freshman DE Josh Brown of PSU.
Tyson Abraham 6-3 205 David Douglas– Abraham was a 2nd team all conference kid as a sophomore and looks like one of the top TE's in Oregon. Look for him to be a featured athlete on a much improved Scots team.
SLOT
Trevon Bradford 5-11 175 Oregon City– One of the top athletes in the entire Northwest, already holding a D1 offer (Montana St). He earned 1st team all league honors on both sides of the football as a sophomore and is maybe the most exciting return man in the region.
Trae Gould 5-9 165 Marist– Gould comes from a football family as the son of D1 head coach Ron Gould of UC Davis. He was a 1st team all league DB and could be one of the MWC's top offensive threats moving forward.
Zach Houlemard 6-1 185 Jesuit– Houlemard could fill a role very similar to standout Trent Werner over the next two seasons. He was one of 7 Sophomore starters in last years state title game. Look for Houle to be one of the top dual threat athletes in the state.
Donovan Baldocchi 5-10 175 Jesuit– Donovan is another kid that exceled from his DB spot, and could be one of the top players in the Metro offensively in the coming seasons.
Adley Rutschman 6-2 205 Sherwood– His football famous last name only tells part of the story. Adley could end up playing the QB spot or a multitude of other positions on the field. He has legit size and is a very talented kid.
Vincent Vy 5-7 165 Parkrose– Vy is quick, elusive and coming off a monster sophomore season. He caught 14 passes for 418 yards and 6 TD's from player of the year Jonathan Boland.
Noah Dahl 5-11 175 Silverton– Dahl could have a breakout season at the 5a level as one of the only sophomores on last years state semi final team. He carried the ball 18 times for 150 yards and caught 3 passes for 92.
Kevin Lahoda 6-0 180 West Albany – Lahoda had a phenomenal BFA camp/combine in Salem and should be one of the better Junior's in the CVC. His stock is rising quickly.
Will Spence 5-11 175 North Medford– Spence accumulated 429 all purpose yards and 2 TD's and will be one of the top junior's in the SWC.
Matt Schmitz 5-10 165 West Linn– Schmitz is a player on the rise that a lot of people don't know about yet. He runs some of the nicest routes in the state as the brother of talented athlete Cam Schmitz.