Consider the Tigard Tigers a 6A title contender as we will have them ranked #2 to start the season. They are legit up front with the state's top two junior offensive lineman leading the way. Conner Crist (6-4 295 16′ T) and Derek McMurray (6-7 340 16′ T) could both be double digit D1 offer kids, projecting as two of the top lineman on the west coast for their class.
All conference big man Kevin Henderson (6-1 310 15′ DL) returns and will be a handful for opposing teams to stop. He is considered one of the elite defensive lineman in Oregon and will also contribute offensively. Chris Kennedy (6-0 270 15′ OL) will round out a very talented and massive up front crew.
The state's top overall athlete, Sam Inos (5-11 185 15′ ATH/S), will get the ball early and often as he seems to play on another level. He currently holds 2 D1 offers (Idaho, E.Washington) and is the # 1 ranked athlete at his position in Oregon, on both sides of the football. He is a potential Pac 12 kid and a threat to go to the house any time he has the ball in his hands.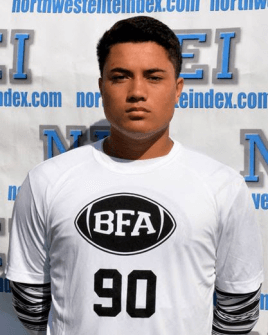 JT Greenough (6-3 180 15′ QB) and Chase Crawford (6-3 185 16′ QB) are considered top 10 quarterbacks for their class state wide and will take over for 2 year starter Jett Even.
Speaking on the run game, Conference MVP Manu Rasmussen has graduated, and many remember Zach Floyd who broke all types of records a few years back. His younger brother Landon Floyd (6-1 195 RB/WLB) will return and could go off in the Tigers system, with Inos and talented Junior Alex Gradin (5-9 165 16′ RB) getting some carries as well. Look for Tyler Walker (5-10 185 15′ RB/LB) to perform on both sides of the ball after an outstanding performance in the playoffs late last season.
The state's # 1 ranked LB Pepe Tanuvasa (6-1 220 15′) will lead the defense and also get an opportunity to lay some hat from the fullback spot. He is a D1 kid and should add additional offers during the course of the season.
Fellow Southridge transfer Nikko Thomas (6-4 205 15′ TE/DE) and teammate Ryan Bay (6-4 210 15′ TE) will give Tigard one of the top TE combo's in Oregon. Thomas has NFL genes, and Bay is a talented basketball kid that transferred back from Jesuit bringing plenty of size and overall athleticism to the table.
Brady McGetrick (6-2 185 15′ WR/K) comes from a football family and has a stock that continues to rise. If the Tigers air it out he will be a primary recipient with under the radar slot receiver Jacob Spadafora (6-0 190 15′ ATH) being another asset.
To summarize the Tigers are the real deal and will be tough for anyone to contain. They run one of the top programs in the Northwest from the youth on up and will have a realistic shot at a state title this season.
If we are referencing strength of schedule I will put Tigard's up against anybody. The TRL is brutal every week and their non league contests won't be easy (Grant & Beaverton).
One of their biggest challenges will be moving from the Pacific conference, where they were done by halftime in most games, to the Three Rivers League. They will have to stay healthy as every week will be a battle. If they can do this I consider them a favorite to be playing for a championship in December. Good luck to the Tigard football community. It's a class group from top to bottom.