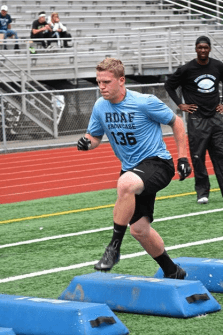 A Junior on the rise in the State of Oregon is Grant Nielsen (6-0 210 16′ LB/RB) of Tualatin. He has been a fixture on the camp circuit over the last 2 years and looks like one of the top LB's in the State for the 2016 class.
The T Wolves are a traditional football power but had average seasons in 2012 & 2013. They will jump from the Pacific Conference to the brutally tough and newly realigned Three Rivers League, making 2014 even more challenging.
Referencing the upcoming year Nielsen says "We will take our season one game at a time and approach every week with a specific focus". Adding, "Personally I want to be able to go prove myself at LB and show my combination of speed and power."
Grant comes from a football family with size so his upside is high. He was an Underclassmen MVP at the RDAF Showcase in Seattle at the end of June, and will be key to the T Wolves success if they want to win in the TRL.
You can expect Nielsen to lead at backer and also get time running the ball behind returning starter Eli Robinson. Grant has been training at BFA for the last two seasons and the strides he has made have been significant. You will see him listed as one of Oregon's top 10 LB's for the class of 2016.
Tualatin will now be in an unfamiliar underdog role within the conference. We will look forward to broadcasting the Tualatin vs Newberg contest in Week 3 of the season on the NFHS Network.
In closing Coach Hastin and company run a class program, and Grant is a prime example of the quality athletes that they continue to produce. We will keep you updated as the season progresses.