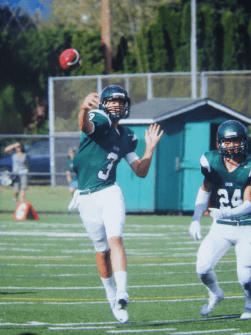 One of the top athletes in the state of Oregon for the 2016 class is Justin Herbert (6-4 185 Jr. QB/ATH) of Sheldon. He is a three sport athlete that ranks at the top of the charts, starting on the Irish basketball and baseball runner up state championship teams in 2014. Herbert will lead one of the Northwest's elite football programs over the next two seasons.
Most remember his brother Mitch from last year, who led the state in receiving, going for over 1000 yards and 21 total TD's. He earned multiple D1 scholarship offers before committing to Big Sky Montana St.
Justin looks to be just as talented on and off the field carrying a 3.8 GPA. Referencing the upcoming year he says, "Our coaches have seen great teams come through, and if we do what they say and work together, we will be in good hands."
The youngest Herbert is long and incredibly athletic. He is a dual threat kid that can beat you in the air or on the ground. Sheldon will call upon some of it's younger athletes to step up in 2014 as the senior class doesn't have it's usual numbers. All everything athlete Kellen Strahm will play a big role, but Justin will be called upon to lead.
The Irish open at home against a top 10 Lakeridge squad, and will follow up that game at traditional state power Jesuit. Herbert will get his chance to show what he is made of early, as Friday night's contest will have him challenging Oregon top QB Eric Dungey, who holds double digit D1 offers.
Both Justin and Sheldon represent nothing but class and it will be fun watching the 6-4 talent over the next couple of seasons.