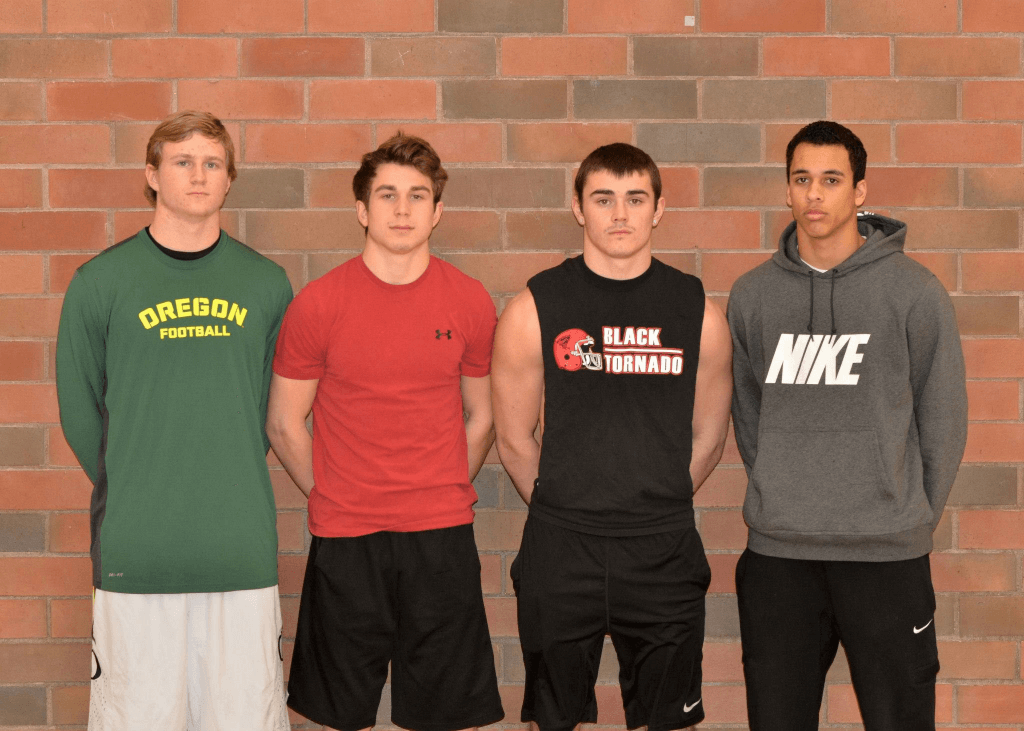 To say that this 2015 Black Tornado group is special would be an understatement. The turnaround at North over the last few seasons has been storybook like. The traditional Southern Oregon power was down and out for the better part of a decade before a dedicated and talented class helped turn things turnaround.
Give a lot of credit to all those involved in the North Medford football community as there is nothing easy about going from last to first. Prior to last seasons conference title and (10-2) record, North went (24-45) from 2006-2012, including a (3-18) record during this groups freshman and sophomore season. They lost last year's season opener to McNary before rattling off 10 straight victories and losing to an undefeated Tigard team in the state quarterfinals.
Returning Conference Player of the Year Troy Fowler (6-0 170 15′ QB) is back and one of the primary reasons any of this was possible. He accounted for 34 TD's last season (29 passing, 5 rushing) and 2,387 yards, but it's his intangibles that make him one of the most special people I have ever been around. If I was to pick any individual to lead my team it would be him. He will be three year starter, leading a group of 40+ senior's that have earned everything that has come their way.
Tristen Holmes (6-2 190 15′ WR/DB), Nick Janakes (6-0 200 15′ RB/LB), and Jared Evans (6-3 200 15′ WR/S) return as three of the top ranked skill kids in Oregon. All will start on both sides of the football, projecting as legit collegiate recruits. Holmes has already been offered by Idaho, and is ranked the state's top corner. He earned 1st team all league honors last season, catching 39 passes for 686 yards, and 7 TD's. As most know he comes from a very talented family, as the cousin of All American candidate Tyrone Holmes of Montana. Tristen was the SWC Player of the year in hoops and also caries a 4.0 GPA.
Janakes earned 1st team all league honors on both sides of the football as a junior, and is another kid that impressed on the camp circuit this summer. His toughness resonates among his teammates. Nick is the kid that everyone wants to have on their team. He went off in 2013, racking up 1,496 all purpose yards and 18 total touchdowns, ranking as one of the top 5 RB's/safeties state wide. Nick will be key if the Tornado want to make a state title run.
Evans is another kid that will return as a three year starter and 1st team all league athlete. He is one of the top baseball players in Oregon, projecting at the D1 level, while also coming in the #2 ranked WR in the state for the 2015 class. Jared caught 48 passes for 818 yards and 9 TD's in 2013. All four of these individuals are phenomenal kids first and foremost and could be the top nucleus ever to play at the school.
Head coach Mike Mitchell has done a phenomenal job getting his guys to buy in, as the line play has come around, and is now looked at as a strength. Jeremy Sparks (5-11 170 15′ LT), Zak Kuitert (5-11 230 15′ LG), Blaine Marshall (6-1 210 15′ C), and Brandon Bouey (6-0 280 15′ RG), will start up front offensively. This while Calvinn Casaday (6-3 200 15′ DE/OL), Skylar Black (6-1 235 15′ DT/OL), and Tre Holmes (6-0 265 17′ DT/OL) will be competing for the right tackle spot.
Junior D end Michael Polotaviao (6-3 265 16′) could be one of the breakout players state wide as Fowler says, "Michael is a freaky athlete and is going to be a D1 kid."
Black and Tre Holmes will start at the D tackle spots and should plug up the middle, with Casaday returning as a three year starter along with Black. Calvinn is one of the more underrated kids in the state and comes off the ball as well as anyone in the SWC.
Adding to his thoughts on the D Troy said, "Skylar and Tre will cause havoc in the middle, with Holmes being the only sophomore on our defense and looking as good as any of the three year returning starters."
Edmund Polotaviao (6-2 210 15′) is ranked one of the top LB's in Oregon and is a potential D1 kid. He will be a SWC Player of the Year candidate and help lead the defense.
Other individuals that could contribute on both sides of the ball include Junior Will Spence (5-10 170 16′ ATH/DB), who had a nice sophomore season accumulating 409 yards of offense and 2 TD's. Josh Hansen (6-2 185 15′ WR) could be another one of the breakout players state wide from his receiver spot. Hansen had an outstanding off season and could put up some big numbers with so much attention being paid to Tristen Holmes and Evans.
Three other lineman that could get in the mix include Dalton Ireland (6-5 240 15′ DE), Morginn Casaday (6-2 185 15′ DL), and Jacob Moore (6-4 215 15′ TE/DE). Moore will also play a role from his TE spot as his stock has continued to rise.
One other big time move came with the transfer of Sophomore QB Chase Warren (6-1 175 17′ QB) from Crater. Warren is considered one of the top QB's in the Northwest for the 2017 class, and will get the luxury of learning from a player of the year Fowler. This is big for the Black Tornado program moving forward.
What this North team has accomplished over the last few seasons has been incredible. After two years in the cellar (2011 & 2012), and with numbers on the decline, this 2015 class helped transform a program in despair.
Every Sunday for two years we saw these kids travel 10 hours round trip to Portland, attending the Barton Football Elite Events all Winter and Spring. There were kids 5 minutes down the road that didn't make the effort, but that wasn't the case here. It has been one of the most inspiring acts of team unity that I have personally ever seen and the results speak for themselves. I can't say enough good things about the kids, families, and coaches that have put in the time and effort. It's truly a class group of individuals.
North will open up at home against a Fortuna, California team that went (10-3) last season before traveling to play Canby in Week 2. We will have them ranked the Co #4 team in the state and the favorite to win another SWC title. As always we will bring you updates as they happen.