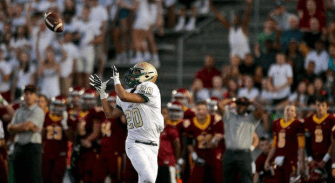 Elijah Molden '17 Slot/CB, Cody Coppedge '16 WR & West Linn– Molden had 4 receptions for 79 yards and 2 TD's & Coppedge caught 5 passes for 96 yards and a touchdown as the Lions beat a top ranked Oregon City squad.. They started 1 freshman, 4 sophomores, and 6 Junior's.
Jakob Eisenbeiss '16 RB Sherwood– The 6-3 200 pound junior scored 4 TD's, 3 coming in the 4th quarter, before GP kicked the winning field goal.
Rey Green '16 RB/ Jerrin Williams '15 QB/ Billy Nelson '15 RB/ Kobe Eaton '15 WR – Evergreen.. Maybe the most exciting team in the NW. The Plainsmen drilled Eisenhower 56-7 as their nucleus went for 770 all purpose yards, led by Green's 245 yards (143 rushing, 102 receiving) and 2 TD's. The state's top WR Justice Murphy should return from injury next week.
Trevon Bradford '16 Slot/DB Oregon City– One of the State's top athletes had a nice night in the loss, catching 8 passes for 130 yards and 2 TD's
Wesley Riddell '15 RB Central – Riddell went off helping introduce his school to the 5a level, rushing 36 times for 317 yards and 6 TD's as Central beat Bend 46-34
Justin Herbert '16 QB Sheldon– As referenced earlier the youngest Herbert is the real deal. He will be a multi offer D1 kid and showed why in his 1st varsity start, hitting on 21 of 29 passes for 298 yards and 5 TD's.. He also rushed 9 times for 84 yards, while kicking a field and 3 extra points in the Irish 38-21 win over Lakeridge.
Landon Floyd '15 RB Tigard– Each and every year it seems like a different senior back takes control out of the backfield. Landon follows up Manu Rasmussen and his brother (Zach) who were two of Oregon's best. He carried the ball 14 times for 146 yards and 3 TD's in the Tigers 47-16 win.
Kellen Strahm '15 WR Sheldon– Oregon Player of the Year candidate Strahm had a great opening night catching 11 passes for 141 yards and 3 TD's in the Irish 38-21 win over Lakeridge.
Jordan Happle- '16 WR/S Jesuit– One of the state's top Jr DB'S could potentially play a big role offensively this year, catching two TD passes (55, 12) versus Central Catholic in the 24-17 loss.
Drew Matthews '15 WR/DB North Bend – The 4A Player of the Year candidate had a big night catching 5 passes for 123 yards and 1 TD (69), while taking a pick 35 yards to the house.
Wyatt Harsh '18 QB Woodland– The freshman QB started his first varsity game, throwing for 211 yards and 2 TD's in the win over Kalama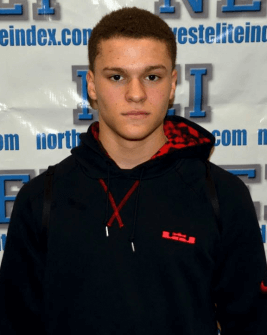 Derek Brown '15 RB Redmond– Brown ran wild going for 354 yards and 5 TD's beating Franklin 62-28 at home
Pepe Tanuvasa '15 LB Tigard– Oregon's top ranked LB was all over the field, laying out backs in the Tigers 47-16 win over Grant.
Cade Smith/Keegen Hlad '15 QB /WR West Salem– Maybe the state's top QB/WR duo had a nice start to their season. Smith accounted for 5 TD's going 10 of 16 passing for 221 yards and 3 Touchdown's, while rushing 4 times for 59 yards and 2 more scores. Hlad caught 7 passes for 142 yards and 2 TD's as the Titans got up 34-0 at half, winning 41-7.
Zach Hannan '15 RB Grants Pass – Hannan ran the ball 12 times for 145 yards and 4 TD's, averaging 12 yards per carry in the Cavemen's 2 point 38-36 win at Sherwood.
James Price '15 WR/S Camas– One of WA's top senior wide outs had a big night catching 8 passes for 132 yards, helping the Papermakers get some revenge against a Chiawana team that beat them in last years state title game.
Austin Brisbee '15 QB Westview– The returning Metro POY was on fire hitting on 19 of 22 passes for 313 yards 4 TDS in the Wildcats blowout of Tualatin.
Craig Contreras '15 QB South Medford– C squared had a phenomenal start to his senior season, hitting on 15 of 20 passes for 334 yards and 5 TD's in the Panthers big 47-28 win at Sunset.
Ian Myers '15 TE Westview– Myers could be the best TE in the state, catching 6 passes for 106 yards and 3 TD's in the Cats 49-13 win.
Clackamas– The Cavs lost one of their most talented senior classes in school history. They came back in the season opener with a 27-13 win over Southern California's Paloma Valley, who went 10-2 last season and has traditionally been tough.
Silverton – The state's #1 ranked 5A team last week continued to dominate with their defense shutting out Wilson 27-0.
Cavin Gillespie '16 RB /Dylan Morgan '15 WR /Matt Struck '16 QB Crater– Gillespie will be the featured back for the next two season, rushing for 145 yards and 2 TD's, with Morgan catching 6 passes for 69 yards and a 75 yard TD run. The 6-3 Struck hit on 20 of 31 passes for 223 Yards in the Comets 28-20 win at Dallas.
Summit D/John Bledsoe '17 QB – The Storm D had a nice evening forcing 7 turnovers, 5 of which came in the 1st quarter, during their 41-19 win over Pendleton. The young Bledsoe will be one of the top QB's in Oregon for the 2017 class.
Tyler Kelsch '15 QB/ Gabe Kerlegan '15 WR– The Rebels are legit and have the potential of being a top 10 5A team. Kelsch was 12 of 14 for 241 yards and 3 TD's in their 48-6 win at Eagle Point. Kerlegan had 107 rushing yards and 2 TD's
Max Montgomery '15 ATH/S Ashland– The returning 1st team all state safety can also play a little offense, accounting for 88 receiving yards and 2 TD's, and beating Klamath Union 45-7.
Samuel Agguire '15 RB Willamette– Sam set the tone for the Wolverines rushing 21 times for 158 yards, nearly upsetting Springfield in the 32-21 loss
Chase Knutz '15 QB Hermiston– The Bulldogs blasted Hanford WA 48-7, leading 34-0 at halftime. Knutz went 15 for 22 for 288 yards and 2 TD's.
Spencer McCarron '15 RB/LB Dallas– The 6-3 215 RB is one of the most underrated players in the state as he rushed 26 times for 220 yards, including a 65 yard TD in the Dragons loss to Crater.
JT Greenough '15 QB Tigard- Greenough looked great, finishing 13 of 19 for 220 yards and 3 TD's in the Tigers 49-16 win over Grant
Jonathan Boland '15 QB Parkrose– The returning NWOC Player of the Year got the season started right, throwing 5 TD's and running for another in the Broncos 56-19 win over an up and coming St Helens team.