**This list is a way to showcase the weeks top performances. I am sure I missed a few and would like to know the ones I did. You can either comment on here or send me an email at Ringerland@gmail.com, and I will be sure to add them.**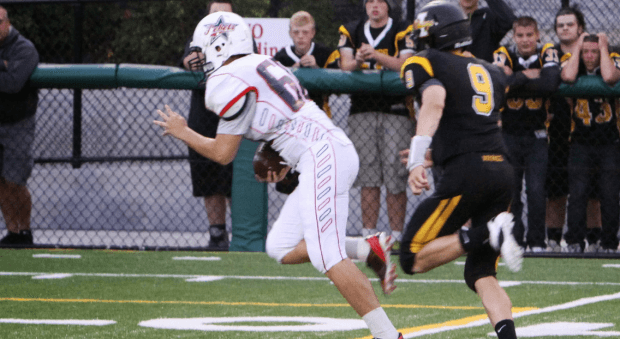 Maximum Millet, DL '15, Juanita – The senior defensive end didn't even enter the game until there were 8 minutes left in the second quarter, and all he did was rack up two sacks, two punt blocks, and two touchdowns, in Juanita's 44-6 win over rival Inglemoor. He recovered one of his punt blocks after Austin Cole had recovered, then fumbled into the endzone, and also had a long fumble recovery later in the game.
Tanner Myhre, QB '15, Nooksack Valley – Time will tell, but the Pioneers could be one of the top teams in the 1A classification, and got a 49-35 win over 2A Anacortes. Myhre completed 19 of 22 passes for 322 yards and 4 touchdowns (19, 18, 32 and 47 yards). Myhre also carried 16 times for 89 yards and two touchdowns (1 and 6).
Amandre Williams, QB '16, Tahoma – While Williams projects as a DE, he got the first start at QB of his HS career, and didn't disappoint. The 6-foot-3, 230 pound junior rushed for 223 yards and four touchdowns as the Bears beat Mount Rainier 43-14 in non-league play.
Markus Goldbach, RB '15, Freeman – The defending 1A state champs got off to a great start by hammering St. Maries (ID) 49-7. Goldbach carried 18 times for 236 yards and three touchdowns (60, 78 and 10 yards). He also returned an INT 52 yards for another score.
Adrian Valona, RB '16, Gig Harbor – The junior back finished with 188 yards on just 12 carries and two touchdowns as the 4A 8th ranked Tides topped 3A 5th ranked Peninsula 30-29 in the Fish Bowl. Gig Harbor came back from a 27-10 halftime deficit to beat their cross-town rival.
Oshea Trujillo, RB '16, Bishop Blanchet – Trujillo is one of the top backs in the 2016 class, and it showed as he rushed for 269 yards and two touchdowns on 28 carries. The Braves outlasted Mercer Island 30-27 in a non-conference game.
Ben Hinthorne, RB '17, Lakeside – Hinthorne carried 20 times for 217 yards, two touchdowns, and isn't even the starting runningback. Lakeside went north of the border into Canada and hammered the École Mission Secondary School 45-14.
Jackson Lewis, RB '15 / Nikhil Lizotte, ATH '15, AC Davis – Lewis carried 27 times for 224 yards and a TD (17 yards), as the Pirates blasted Pasco 40-12 on Friday in a Non-League contest. Lizotte finished with 6 catches for 141 yards, including a 71 yard TD. He was also 2 of 2 passing, for 89 yards.
Thomas Pier, RB '16, Tenino – At just 5-feet-9 inches, Pier can be hard to find behind the offensive line. The junior back only carried the ball 13 times, but rushed for 316 yards as the Beavers knocked off Charles Wright 50-8, giving new head coach Randy Swilley a win in his first outing.
Austin Joyner, RB '15, Marysville Pilchuck – The Washington State commit carried 14 times for 258 yards and two touchdowns, as the Tomahawks blasted the Kamiak Knights 41-15 in a non-league game.
Brett Rypien, QB '15 / Sam Stratton, WR '15 Shadle Park – Rypien, a Boise State commit, looks to be in mid-season form throwing for 428 yards and 8 touchdowns in a 63-14 over Fife. The 6-foot-5 inch Stratton finished with 11 receptions for 215 yards and 4 TDs (18, 2, 62 and 5 yards)
Trent Postma, RB '15 / Jordan Wittenberg, WR '16, Lynden – The Lions got a big 48-22 win over King's to start their title defense, with Postma and Wittenberg playing big parts. Postma carried 10 times for 179 yards and two TDs (15, 97), while Wittenberg was the leading receiver with 6 catches for 118 yards and a score (68 yards).
Chase Morrow, QB '16, Black Hills – You never would've known Morrow is the backup QB getting his first varsity start on Friday night, as he completed 22 of 37 passes for 356 yards and four touchdowns. The Wolves beat a high ranked Montesano Bulldogs squad 33-7 in a non-league game.
Koa Wilkins, QB '16, King's – In a 48-22 loss to defending state champion Lynden, Wilkins completed 18 of 38 passes for 318 yards and two touchdowns. The junior left-hander is one of the better QB's in the 2016 class.
Easton Trakel, ATH '16, Tumwater – Trakel finished with 207 all-purpose yards and a TD as the #2 ranked Thunderbirds topped rival Capital 14-3. The highly-touted junior had 82 yards receiving, 52 yards rushing and a 73 yard kickoff return.
Jack Bamis, RB '15, Gonzaga Prep – On Friday night Bamis carried 27 times for 197 yards and a TD, as the Bullpups came from behind to beat the Richland Bombers in a non-league contest. Bamis is a freak of an athlete, is still very raw, and is starting to pick up steam in recruiting.
Nathan West, QB '16, O'Dea – Do not adjust your screen… West completed 11 of 14 passes for 248 yards and three TDs, as the Fighting Irish knocked off Vancouver College 44-7 in a non-league game. O'Dea is traditionally a run heavy offense, as West was only 6 yards from a school record.
Andrew Grimes, RB '16, Lake Stevens – In a 28-21 win over a good Meadowdale team, Grimes carried 26 times for 218 yards and one TD. With a lot of the defensive focus being on the Lake Stevens' passing game, Grimes is primed for a breakout season.
Jason Holt, QB '16, Wellpinit – Holt ran wild in a 72-20 win over Northport. He carried just nine times for 179 yards and finished with four total touchdowns. He scored from 33, 12 and 41 yards on the ground, and also had a 70 yard kickoff return for a score, all in the first quarter.
Jacob Eason, QB '16, Lake Stevens – The Georgia commit completed 25 or 40 passes for 294 yards and three touchdowns. The Vikings topped Meadowdale 28-21 at home on Friday night.
Gabe Gutierrez, QB '15, Timberline – The senior QB did a little bit of everything for the Blazers in a 34-21 win over rival North Thurston. He finished with 229 yards of total offense, and four touchdowns.
Josh Bayne, RB '15 / Joel Walstad, QB '15, Coupeville – The Wolves racked up 534 total yards of offense, behind 218 rushing yards (with two TDs) from Bayne, and a 20-29 for 252 (with three TD) passing performance from Walstad. Coupeville topped rival South Whidbey 35-28 to bring home "The Bucket".