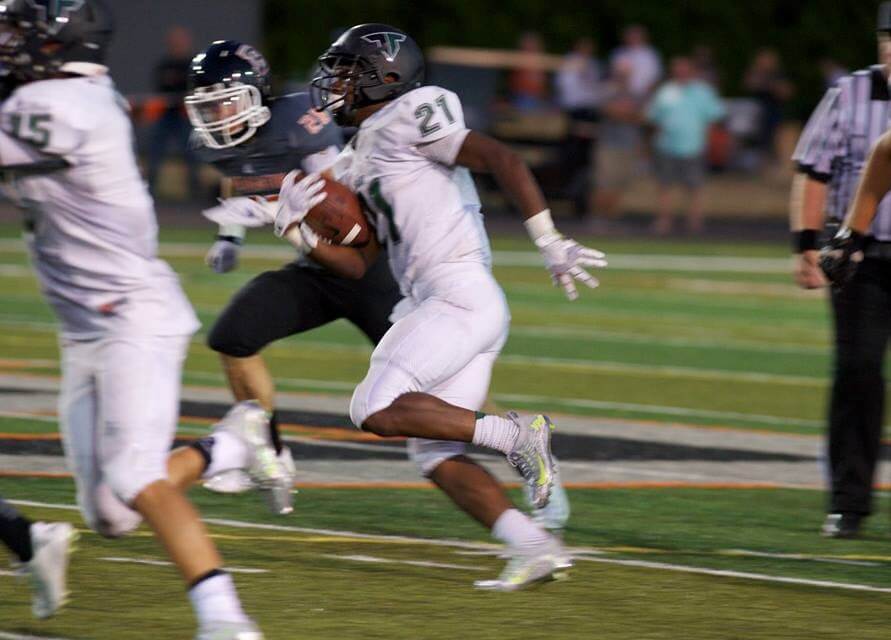 Justin Herbert Jr. QB / Kellen Strahm Sr. Slot– Sheldon.. The Irish have made a statement early, beating two top 10 teams, now ranking the #3 team in Oregon.. Herbert has thrown 8 TD's with 0 INT's, while Strahm has caught 18 passes for 264 yards and 4 TD's in the last 2 weeks.
Javan Appling Sr. Grants Pass– Javan continued his successful season going 17 for 24 with 398 passing yards, and 3 TD's as the Cavemen blasted a good Newberg team at home 56-21.
Sam Inos Sr. ATH Tigard– The state's top ranked athlete did a little bit of everything Friday night, rushing for 229 yards and 5 Td's in the #2 ranked Tigers 45-27 win at Beaverton.
Sirgeo Hoffman Sr. RB Gresham– One of Oregon's fastest rising athletes, averaged 26.2 yards per carry, rushing 15 times for 394 yards and 5 TD's in their blowout win over Corvallis.
Sandy Defense– The Pioneers did not allow a point for 8 quarters and 3 overtime sessions, before Wilsonville added 6. Joe Polamalu has his guys (2-0) after the 7-6 triple OT win.
Eric Dungey Sr. QB Lakeridge– Oregon's #1 ranked quarterback went 16 of 22 for 177 yards and 3 Td's, also rushing yards for 100 yards and a touchdown in the Pacers 46-20 route of Oregon City. Dungey has double digit D1 offers and should be considered one of the top dual threat kids in the country with his ability to run.
Nick Janakes Sr. RB North Medford– The SWC player of the year candidate rushed 22 times for 160 yards and 3 TD's in North's 35-21 win over a good Canby team. He is equally talented on D.
Jonathan Boland Sr. QB Parkrose– The NWOC POY has accounted for 11 Td's (9 passing, 2 rushing) over the first two weeks, accounting for 662 passing and 154 rushing yards. The Broncos are (2-0) and ranked in the top 10.
Cade Smith Sr. QB West Salem– One of the top QB's in the West has been dominant in his first two games, accounting for 11 TD's (6 passing, 5 rushing) in limited time due to blowouts. Cade has gone 20-31 passing and carried the ball 11 times for a total of 618 yards (455 passing, 163 rushing).
Camas D– I can't say enough good things about the Papermaker defense. They bottled up one of the nation's top players in Chico McClatcher and beat a top ranked Federal Way team 49-6.
Cameron McCormick Jr. TE Summit– Oregon's top ranked Junior TE continued to show why he will be a high profile D1 recruit, catching 5 passes for 180 yards and a 99 TD reception.
Heritage– The GSHL school started (2-0) for the first time in school history with it's 50-7 win over Hudson's Bay. It will be an interesting matchup with Evergreen next week.
Cody Anthony Sr. RB/QB Mountain View– The Senior dual threat kid threw all three 3 TD's in their win over Wilsonville last week, while rushing for 3 this week from the RB spot. Anthony is one of the more versatile kids in the state at 6-2 210.
Wesley Riddell Sr. Central– Riddell showed that he is legit on a state wide level rushing for 242 yards and 3 TD's against one of the top 5A teams in the state. He has now amassed 559 rushing yards on 65 carries, with 9 total TD's.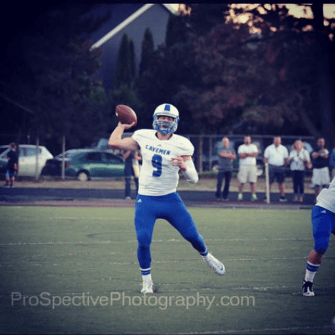 Willy Pflug Sr. QB/ Caden Carter Jr. RB Sunset– Pflug went 22 of 38 for 391 yards and 4 TD's, with Carter having a breakout performance. He carried the ball 27 times for 255 yards and 4 more scores in the 55-49 win over Reynolds. Willy has thrown for 691 yards and 6 TD's in the first 2 weeks
Sam Noyer Jr. QB Beaverton– Oregon's top ranked Junior QB hit on 14 of 27 passes for 288 yards and 2 TD's in the loss to Tigard. Noyer is legit on multiple levels and will be a Metro League Player of the Year candidate.
Devon Dunagan Sr. WR McNary– Dunagan is somewhat under the radar, but is legit at 6-4. He caught 8 passes for 103 yards in the 34-20 loss to Westview.
Sam Kuschnik Sr. RB Silverton– The Foxes continue to have kids step up as Kuschnik carried the ball 28 times for 170 yards and 2 Td's. Silverton had their way with an overmatched Marist team.
Brandon Culp Sr. RB Putnam– Culp is an underrated back and went off Friday, carrying the rock 18 times for 236 yards, and 4 TDs in the win over cross town rival Milwaukie.
Michael Waters Sr. RB Grant– The 1st team all league transfer from Madison is the real deal, carrying the ball 23 times for 212 yards, with an 80 yard Td reception.
Alex Berfanger Sr. RB / Caleb Browning Sr. RB Union– Berfanger and Browning continued their impressive first two weeks, helping the Titans to a 24-7 win over Curtis.. Each got in the end zone (Berf 50 rush, Browning 61 punt return) this week after Berfanger went off in the 2nd half against Fed Way in the opener.
Chase Cota Fr. WR South Medford– One of the Northwest's top freshman has scored TD's in his first two varsity games. He caught 2 passes for 97 yards, with a 72 yard TD reception against LO in the 21-14 win.
Carson Morter Sr. DB Hermiston– The Senior DB had a record setting day against what is usually a very talented Kamiakan team, picking off 4 passes in the 48-7 win.
Drew Matthews Sr. WR/ Levi Rider Sr. WR North Bend – Oregon 4A title contender N.Bend continued to impress with its 56-15 pasting of Cottage Grove. Matthews did his thing catching 5 passes for 171 yards with Rider getting in the mix and catching 4 passes for 116.
Gabe Matthews Jr. QB South Salem– For the 2nd straight week Matthews looked the part, accounting for 6 TD's (3 passing, 3 rushing). He went 11 for 15 through the air, passing for 208 yards while rushing 14 times for 74 more yards as the Saxons are (2-0).
Derek Brown Jr. RB Redmond – The Panthers are off to a (2-0) start, as Brown has rushed for 519 yards and 8 TD's in his first two games. Redmond blasted Eagle Point 56-7, getting up 42-0 at half.
Shashi Penn Jr. Slot/WR Ashland– After missing the first week with an injury, one of the state's top Junior's had a nice night with 5 receptions for 135 yards and 2 Td's.
John Bledsoe So. QB Summit – Get used to this name as most are probably familiar already. The son of former All pro Drew Bledsoe had his 2nd good week in a row hitting on 21 of 29 passes for 354 yards and 4 TD's in their 52-6 win over Franklin.
John Duffy Sr. RB Lincoln– One of the most talented Lacrosse kids in the region went off Friday night, rushing for 262 yards on 32 carries and 2 TD's.. The Cardinals will be a PIL contender
Kevin Lahoda Jr. ATH West Albany– The junior standout will be called upon often this season, rushing 18 times for 275 yards and 3 TD's against North Salem
Daniel Wilson Jr. RB Springfield– Wilson had a big night helping the Millers to their first win over Thurston in decades 30-10.. He had 10 carries for 170 yards and 2 TD's.