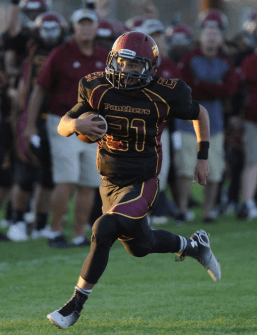 It's to early to say for sure, but the 5A Redmond Panthers look to be back on track. The IMC school has blasted their last two opponents by a combined score of 118-35, but even they would say you need to take the competition into account.
The Panthers feature one of the state's more exciting junior's in Derek Brown (5-10 170 16′ RB/DB), who rushed for 519 yards and 8 TD's in his first two games. He was a three sport varsity starter as a sophomore (basketball, baseball) , earning 1st team all league honors on the football field in 2013.
Brown will be a conference player of the year candidate this season and a primary reason that they could be back in the IMC title hunt. Mountain View will be the favorite but the Panthers have some young talent.
Sophomore QB Bunker Parrish is a player and a kid they can build around, while Senior TE Cody Winters (6-5 250 15′) is a necessary force with his size. Parrish added 2 TD's on the ground, and also hit Winters for a touchdown last week.
Summit will be tough and is a team on the rise, but Redmond looks to be on the right path under head coach Nathan Stanley. 2012 & 2013 were polar opposite seasons, going 11-1 followed by 1-8 last year, although the opening of Ridgeview High School directly effected that.
Derek impresses with his overall athleticism, and will be key if the Panthers want to make a playoff run. He should be considered one of the top athletes in the state for his class and a kid that we will hear much more from in the coming season.