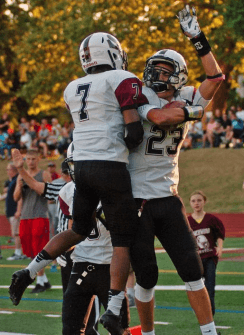 One of the top athletes in the Northwest for the class of 2017 is David Morris of Sherwood. The 6-3 200 pound sophomore could be ranked among the top athletes nationally at his position.
He will be listed at the top of the charts within Oregon, with the likes of Elijah Molden and Anthony Adams for his class. Its rare to see a kid with legit size, move the way he does at such a young age. Morris can play a multitude of positions as the Bowmen should be a Top 10 6A team this season.
Referencing this upcoming year David says, "I have worked hard this off season with my trainer to get stronger, and faster as I knew I had an opportunity to play varsity this year". Adding, "It's going to take a team effort to play at the 6A level and I will work hard, remain humble, and be a great teammate with the ultimate goal of being a D1 athlete."
Many remember David's brother Cristian who was one of the top athletes ever to play at Sherwood. He was a 1st team all state running back & defensive back, signing with division 1 Idaho St University two years ago.
Speaking on his brother the younger Morris says, "I think by watching him play he helped my game, even today he is able to give me advice as he knows our system."
David is a dual threat kid and already a statistical leader on his squad through the first two weeks. He has averaged 9.8 yards per carry, scoring 2 TD's on 11 rushes thus far. Defensively he has totaled 9 tackles with a pass deflection, while averaging 48 yards per kick return.
As most know Sherwood is a traditional state power under coach Greg Lawrence. Teammate Jakob Eisenbeiss, another future D1 individual says, "The kids legit, he's got incredible instincts and has big things ahead of him."
Morris is an outstanding overall athlete and student, playing varsity hoops as a freshman, while helping his basketball team finish 4th in the state last season at the 5A level. He carries a 3.5 GPA and could very well be one of the most recruited kids to come out of Oregon in some time. He is that good.
The Bowmen are (1-1) and ranked #9 in our most recent NEI 6A top 10. We will bring you updates on Morris and the Bowmen as the season progresses.