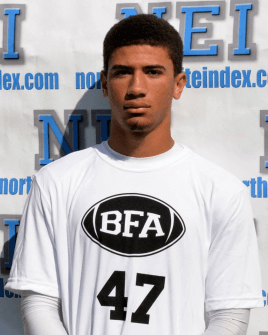 Watch Live: Fri 7PM Tualatin @ Newberg on the NFHS Network
One of the top athletes in the region for the class of 2017 is Newberg standout Anthony Adams (6-1 175 17′ ATH/S). The Sophomore will be called upon on all fronts Friday night as the Tigers play host to the Tualatin Timberwolves (0-2).
Newberg is a team on the rise, with some talented younger athletes that have had success at the youth level. That said the TRL is no joke and every week they could see themselves playing an Oregon top 10 ranked team.
Anthony will be a multi offer D1 kid as he is legit on a national level. Offensively you will see him starting at RB, while moving into the slot and maybe even playing some QB. On defense he will play opposite 1st team all conference returner Tyler Delashmutt (6-2 190 15′) at safety, who is also one of the state's top WR's.
Marcus Dufour (6-3 220 16′) is one of Oregon's most impressive junior athletes and will be another kid that will need to step up for the Tigers to compete in the TRL.
Tualatin is a traditional state power but took it's lumps over the first two weeks, losing to Westview 49-13 and Roseburg 31-14. Newberg beat a talented 5a team in Crescent Valley 21-17 before losing 56-21 at #6 Grants Pass last week.
If the T Wolves drop this game they could very well go (0-9) on the season as the Three Rivers League is brutal and littered with talent. Coach Hastin does a great job but the numbers have been down and the transition from the Pacific Conference will be tough.
Adams was an Underclassmen MVP last spring, as part of the BFA 7 on 7 Vegas travel squad. He was one of the top freshman athletes in a tournament that featured 100+ teams and countless D1/NFL type kids. Look for Anthony to be key Friday night as Tualatin will keep their focus on him.
Myself and Fletcher Johnson of 750 The Game will be calling the TRL contest and will bring you updates as they happen.