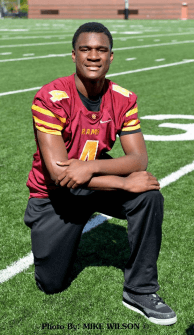 In what will be the first of many the Oregon St Beavers have extended a scholarship offer to Central Catholic standout LaMar Winston (6-3 210 Jr. WR/OLB). The 2016 athlete is considered one of the top dual threat kids in the country for his class, and has the likes of Oregon close to offering as well.
Winston was a 2nd team all league LB as a sophomore during the Rams state title run, accumulating 43 total tackles and 9 tackles for loss. On top of his defensive ability, LaMar will most likely be ranked our #1 receiver in the state.
Referencing the offer he says, "I like OSU they have a great coaching staff and campus". Adding, "I enjoyed going down there this summer for their one day camp, as it was a great experience."
He is a very humble kid with his overall athleticism consistently on display in both football and basketball. His acrobatic dunks showcase his ridiculous upside as you can't teach what he possesses. LB Coach Trent Bray saw this and made his intentions known.
That said we don't know what side of the ball he will play on as he projects at the highest level on both. LaMar says, "I'm just excited about the offer and grateful for the opportunity". He continued, " I don't have a preference as to what side of the ball I will play on, I will give my all on either."
LaMar caught a 63 yard touchdown pass Friday night against Oregon City to cap off a phenomenal 24 hour span. Winston will be recruited by some of the top universities in the country, as he gives them options with his size and speed on both sides of the football.
Congrats to LaMar as his recruitment is just getting started. He is a quality kid that brings a lot to the table on and off the field. We will bring you updates as they happen.