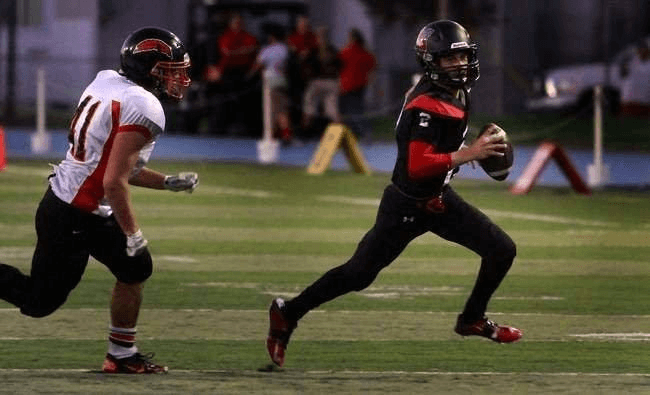 Connor Berggren Jr. WR West Linn– The 6-2 175 pound Junior is one of the fastest rising kids in the state, catching all 3 TD's in the Lions 20-6 win over Lake Oswego. He has 5 touchdowns in the last 2 weeks.
Chris Adamo Sr. ATH Mountain View– One of Oregon's top DB's has completely shut down one side of the field this season (5 pass deflections) . Most opponents won't even throw his way. He has also contributed offensively scoring in each game, with a 96 yard kick return in this weeks 40-34 win over Crater.
Liam Fitzgerald Jr. QB Camas– Fitzgerald has played lights out all year, hitting on 15 of 19 passes for 254 yards and 4 TD's in their 68-0 win over Rogers.
Sirgeo Hoffman Sr. RB Gresham– One of the fastest rising backs in the state followed up his 394 yard rushing performance in the 41-37 loss to Barlow, rushing 34 times for 237 yards and 2 TD's
Dante' Reid Jr. QB Tualatin– The 6-1 190 pound Junior was very impressive in the 35-28 loss to Newberg, going 35-59 for 395 Yd's and 3 TD's. He used his feet countless times to escape defenders, hitting multiple targets.
Nathan Hawthorne Sr. ATH Columbia River (WA)- The returning conference player of the year caught 7 passes for 111 yards and a TD, also picking off a pass and taking it to the house in the (3-0) Chieftans 36-20 win over Centralia.
Billy Nelson Sr. RB Evergreen (WA)- One of the NW's top ranked senior's went off in the Plainsmen 47-31 win over Heritage. Nelson totaled 5 touchdowns with 80 & 85 yard kick returns, a 31 yard rushing TD, 65 INT return, and a 27 yard fumble recovery.
North Bend– Consider the Bulldogs a 4A state title favorite as they embarrassed a traditional 5A state power in Marist 47-7 at home. Drew Matthews continued his early season tear catching 4 passes for 115 yards and a TD.
Jordan Happle Jr WR. Jesuit– One of Oregon's fastest rising junior WR's had some pretty ridiculous numbers through 2 games in a run oriented program. Jordan had 17 catches for 282 yards and 2 TD's before their beat down of Sunset, where he had another 32 yard TD reception.
Bryson Enge Sr. WR Skyview (WA)- Enge caught 5 passes for 126 yards and 2 TD's. Skyview looked very impressive beating Battle Ground 44-9.
Troy Fowler Sr. QB North Medford– The returning SWC player of the year has been as efficient as any QB in Oregon, going 10 of 15 for 141 yards and 4 TD's in the Black Tornados' 56-7 blowout win over Roseburg.
John Duffy Sr. RB Lincoln – One of the regions top Lacrosse athletes (committed to Loyola) went off again against #8 West Salem in the close loss. Duffy rushed for 323 yards and 4 TD's, giving him 595 rushing yards and 6 TD's over the last 2 weeks.
Ian Myers Sr. TE Westview– Myers looks like the top TE in the state, having another big night, catching 5 passes for 109 yards and 2 TD's.
Eric Dungey Sr. QB Lakeridge– Dungey added his 15th offer from Colorado St on Friday night in the Pacers win over Canby. He hit on 92% of his passes going 22-24 for 308 yards and 5 TD's, while rushing 12 times for 80 more.
Cade Smith Sr. QB West Salem– Cade continues to have one of the most impressive seasons in recent memory. Smith went for 424 total yards, going 12 of 16 through the air for 241 yards and 4 TD's. Also rushing 18 times for 183 yards.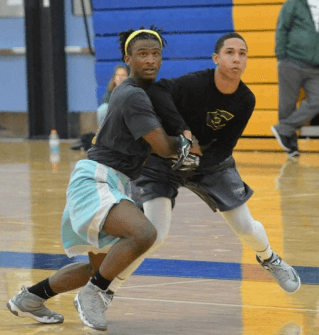 JT Greenough Sr. QB /Landon Floyd Sr. RB Tigard– The Tigers are a legit title contender, beating a talented Sherwood team 49-28. Greenough hit on 12 of 18 passes for 275 yards and 1 TD , also rushing for 1.. Floyd continued his impressive season rushing for 116 yards and 3 TD's.
Matt Kleinman Sr. RB/LB Sprague– The returning CVC Defensive Player of the Year has also been outstanding offensively rushing 10 times for 140 yards and 3 TD's in the win over Mcminnville.
Elijah Molden So. ATH West Linn– Maybe the top CB on the West Coast for the 2017 class will be one of Oregon's top RB's in the coming years. He rushed 14 times for 123 Yards in the win over LO.
Brandon Casteel Sr. Washougal (WA)- Casteel averaged almost 20 yards per carry, rushing 15 times for 292 yards and 3 TDs (98,90,70) in their win over Ridgefield.
Dezmond Stoudamire Sr. RB/DB Centennial– The 1st team all league DB can also play offense, showing off his running ability in the Eagles 36-26 win over Reynolds. He rushed 15 times for 154 yards and 3 Td's.
Sam Noyer Jr. QB Beaverton– Oregon's top ranked Jr QB had another good night, throwing for 275 Yards and 4 Passing TD's in the Beavers 42-17 win over Century.
Austin Brisbee Sr. QB Westview– Brisbee continues to look like one of the top QB's in the Northwest. He went 23 for 39 for 379 yards and 4 Td's, also rushing for 1. The Cats are a potential top 10 team.
Hillsboro/Matt Jones/DB's – The Spartans are now (3-0) and looking like a top 10 5A team. They blasted LaSalle 51-27 with Jones Passing for 4 TD's.. The Hillsboro secondary had a record breaking night with 6 INT's.
Max Montgomery Sr. S/ATH– The returning 1st team all state safety picked off 3 passes against Summit in the 35-10 win, also making an 80 yard TD reception on the first play of the game.
Chase Morrison Sr. RB Jesuit– Morrison went for 2000 yards and 30 TD's last season and torched Sunset this week going for 5 more (4 rushes + 95 Yd kick return).
South Medford– The Panthers are legit, hammering a decent Willamette team 43-6 on their way to posting a (3-0) record thus far. They will be tested in the SWC as the conference is as good as it's been in the last decade.
Kellen Strahm Sr. ATH / Justin Herbert Jr. QB Sheldon – Strahm has played as well as any athlete in the state in 2014. He added 4 more TD's, with 101 yards receiving and 51 yards rushing while filling in for 6-5 Jr QB Justin Herbert. Our thoughts go out to Justin as he went down with a serious knee injury. He is one of the top athletes in the west for the class of 2016.
Grants Pass – The #4 ranked Cavemen are for real as beating the Irish in Eugene is tough for anyone to do. GP will be tested 2 of the next 3 weeks playing both North and South Medford at home.
Woodland Defense (WA)- The Beavers D has allowed 0 points on the season, with its 3rd consecutive shutout coming in a 50-0 defeat of Hudson's Bay.
Gabe Matthews Jr. QB South Salem– Matthews has been nothing short of phenomenal over the first three weeks accounting for 17 total TD's. He added 6 more this week in the Saxons (3-0) win over Forest Grove with (2 rushing, 4 passing).
Ben Ferguson Jr. Slot Tualatin– Most don't know about Ferguson but the kid is legit. He caught 14 passes for 140 yards and 2 TD's in the loss.
Wyatt Smith So. QB McMinnville- The talented youngster threw for 370 yards and 2 TD's, also rushing for 1 in the 56-35 loss to Sprague.