**This list is a way to showcase the weeks top performances. I am sure I missed a few and would like to know the ones I did. You can either comment on here or send me an email at Ringerland@gmail.com, and I will be sure to add them.**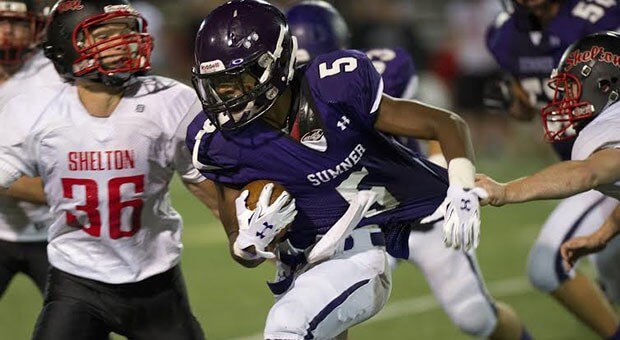 Daron Camacho, RB 16, Chief Sealth – The junior back carried the ball 32 times for 320 yards and three touchdowns as the Seahawks beat Nathan Hale 28-26 in a Metro League game. Camacho is one of the more underrated backs in the 2016 class, as Chief Sealth doesn't get a ton of recognition.
AJ Layton, RB/LB '15, Mead – Offensively Layton finished with 143 yards on just eight carries and a TD. Defensively he racked up 22 total tackles, but it wasn't enough as Mead lost to Gonzaga Prep. Layton is one of Washington's top two-way threats, showing abilities that rank him towards the top on both sides of the ball.
Blake Gregory, QB '16, Skyline – The Spartans and Gregory made a big statement this week by taking it to Mount Si 49-27 in a Kingco 4A matchup. The junior QB completed 15 of 21 passes for 281 yards and four touchdowns (6, 74, 48 and 51 yards).
Myles Gaskin, RB '15, O'Dea – The Washington commit ran wild in a big 34-10 win over Marysville Pilchuck. Gaskin finished with 202 yards on just eight carries, and touchdown runs of 70, 56 and 19. He also returned a punt 64 yards for another score.
De'Jhion Parrish, RB '15, Interlake – Parrish carried 23 times for 295 yards and three touchdowns, but it wasn't enough as the Saints lost to Liberty 51-32 in a Kingco 3A/2A conference game. Parrish is small in stature, but he plays a big game.
Jalen Hicks, RB '15, Ferris – The Saxons got back on track this week with a 45-36 win over University. Hicks finished the night with 313 yards on 22 carries and scoring runs of 58, 56, 56, 59 and 2. He is one of the more underrated athletes in the northwest.
Chico McClatcher, RB '15 Federal Way – The 10th ranked Eagles got their first win of the season by hammering Tahoma 58-17. McClatcher only played the first half, but finished with 14 carries, 286 yards and five touchdowns.
Kolby Killoy, QB '16, Pasco – The Bulldogs are now 2-1 on the season after blasting Hanford 69-33. Killoy completed 22 of 28 passes for 255 yards and six touchdowns. When you add in big rushing performances from Deondre Hendrix and Cole Kelley, the Bulldogs look like a team to watch.
Easton Trakel, ATH '16, Tumwater – The dynamic junior only needed five carries to rush for 144 yards and four touchdowns, as the second ranked Thunderbirds shutout La Center 41-0. Trakel scored on runs of 11, 26, 38 and 73 yards, all in the first half.
Robert Terhune, RB '15, Cascade Christian – The do-it-all senior finished with 201 yards on just 15 carries and three touchdowns, as the Cougars topped Nooksack Valley 42-18 in a non-league game. Terhune scored on runs of 44, 1 and 19 yards for the top ranked Cougars.
Austin Urlacher, RB '15, Chiawana – The senior back carried 26 times for 19r yards and three touchdowns, as the Riverhawks ran roughshod over the Richland Bombers 41-0 in a Mid-Columbia Conference game. Urlacher scored twice from eight yards out, and added a 15 yarder, all in the first half.
Anthony Leiato, QB '17 / DeArron Anderson, WR '15, Steilacoom – Leiato and Anderson connected for three scores as Steilacoom topped Washington 45-20 in an SPSL 2A conference matchup. Leiato completed 14 of 18 passes for 281 yards, while Anderson finished with three catches and 102 yards.
Bryce Williamson, RB '15, University – The senior back did all he could on Friday night, but it wasn't enough as the Titans would fall to Ferris 45-36. Williamson carried 32 times for 324 yards and five touchdowns in the losing effort.
Connor Wedington, RB '17, Sumner – The sophomore carried 15 times for 199 yards and three touchdowns (12, 57 and 58 yards) as the Spartans hammered Enumclaw 48-17. Wedington is one of the more exciting backs in the 2017 recruiting class, and a name you will want to keep an eye on.
Shannon Edwards, RB '15, Graham-Kapowsin – The senior back carried 45 times for 205 yards and four touchdowns, but it wasn't enough as the Eagles lost 34-31 to Emerald Ridge in a SPSL South division matchup at Sparks Stadium.
Jack Bamis, RB '15, Gonzaga Prep – The senior back was a horse for the Bullpups, carrying 28 times for 118 yards and three touchdowns, as the Gonzaga Prep came from behind to beat 28-14. Bamis is being highly recruited on the defensive side of the ball, but does his damage on offense for GP.
Thomas Pier, RB '16, Tenino – Pier finished the night with 218 yards on 28 carries, but it wasn't enough as the Beavers lost their first game of the season 36-21 to Hoqiuam. Pier is an emerging back in the 2016 class and an athlete we are keeping a close eye on.
Zavia Frazier, RB '15, Wilson – The Rams improved to 3-0 on the season with a 47-21 win over North Thurston. Frazier finished the night with 152 yards on 13 carries and three touchdowns.
Gavin Kaepernick, QB '16, Sehome – The junior finished the night with 11 completions on 17 attempts, for 200 yards and four touchdowns, as the Mariners topped Anacortes 38-7 in a Northwest 3A/2A conference game. Kaepernick had touchdown passes from 25, 13, 74 and 65 yards on the night.
T.J. Faamausili, RB '15, Kamiakin – The Braves took it to Southridge in a 47-3 win, and once again look to be the top 3A team in the Mid-Columbia Conference. Faamausili carried 19 times for 139 yards and touchdowns of 1, 8 and 18 yards.
West Valley (Spokane) Defense – The Eagles defense was on top of their game this week in a 55-6 win over Rogers (Spokane). They finished with three defensive touchdowns, as Jace Malek (55 yards) and Hunter Ferguson (31 yards) returned INTs for scores, and Michael Chan scooped-and-scored from 31 yards out.
Braiden Beckman, LB '15, Kentridge – Another week goes by, and another impressive performance from Beckman. This week he finished with 17 total tackles, bringing his season total to 58 through just three games.