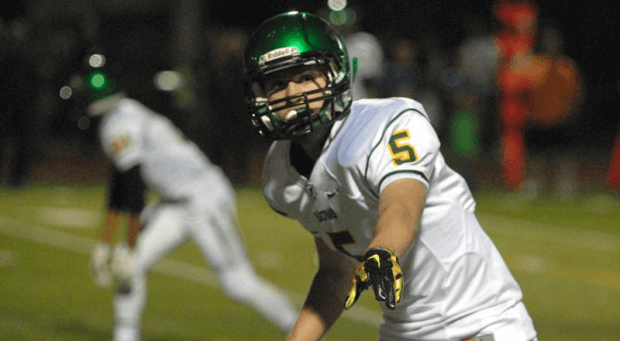 Logan Comer Sr. RB / Kellen Strahm Sr. ATH- Sheldon– The Irish senior combo went for a combined 452 rushing yards in the big 40-25 win at South Medford. Comer rushed 21 times for 239 yards and 5 TD's, with Strahm adding 15 carries and 213 yards and a 98 yard touchdown run on the 1st play of the game.
Chase Cota Fr. WR South Medford– The son of Chad Cota and cousin of Brady Breeze is the real deal. The freshman caught 2 TD's (30,9) against Sheldon giving him 4 for the season.
Austin Brisbee Sr. QB Westview– The returning Metro League Player of the Year is a probable candidate once again. The Wildcats are (4-0), as Austin passed for 6 more TD's against Beaverton, giving him 17 for the season. The Wildcats dropped 81 points and scored touchdowns on 11 consecutive possessions on Friday.
Jonathan Boland Sr. QB Parkrose– Boland continues to fire on all cylinders as the Broncos could have their best team in school history. He went 15 of 24 for 403 passing yards and 4 TD's, also adding 2 rushing TD's, and three 2 point conversions.
Cody Coppedge Jr. WR/ Tim Tawa So. QB West Linn– Coppedge continues to look like the top Junior receiver in the state, catching 12 passes for 161 yards and 3 TD's against Newberg. Tawa added to his impressive sophomore campaign throwing 6 more TD's for 330 yards.
Wyatt Hutchinson Jr. QB Clackamas – One of the breakout players state wide has helped the Cavs go (4-0) thus far, going 19 of 26 for 292 yards, with 55 yards rushing and 2 TD's in the 35-17 win over Barlow.
Connor Mitchell Jr. RB/ Trevon Bradford Jr. ATH Oregon City– Mitchell rushed 12 times for 195 yards and 2 TD's, with Bradford adding 2 scores (85 Yd kick return) in the Pioneers 55-28 win over David Douglas. I wouldn't sleep on O.C.
Jonas Ford RB / Reynolds Team D– Ford had a clutch night scoring 2 TD's on the ground, and taking a fumble recovery back 58 yards for the winning touchdown in the Raiders come from behind 29-23 win.
Mitch Verburg Jr. QB / Will Burton Sr. RB Lake Oswego– You can expect to the see the Lakers listed as a top 10 team once again, as they return 9 starters from suspension. Top Junior QB Verburg hit on 10 of 14 passes for 205 yards and 2TD's, all in the first half.. Burton rushed for 3 TD's before halftime as well.
Liam Fitzgerald Jr. QB Camas (WA)– One of the fastest rising Jr quarterbacks in Washington. He went 11 of 22 for 187 yards and 3 TD's all in the first half.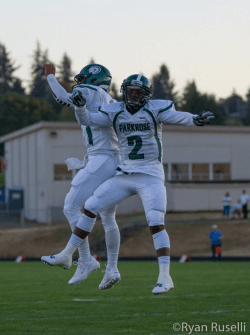 Matt Struck Jr. QB Crater– The talented 6-3 Junior went 30 of 39 for 463 passing yards and 3 TD's in the Comets 43-10 win over Eureka, CA.
Wesley Riddell Sr. RB Central– Riddell is a leading candidate for 5A player of the year honors, currently leading the state in rushing. He had 23 carries for 342 yards and 6 more TD's in their 42-29 win over Dallas
Wyatt Harsh Fr. QB Woodland (WA)– The freshman continued his early season tear, completing 13 of 17 passes for 247 yards and 6 TD's. You can expect Harsh to be one of the most recruited kids in the region for the class of 2018 with continued progression. The Beavers are (4-0).
Javan Appling Sr. QB / Kirkland Meadows Sr. WR– Appling has been incredibly efficient and continues to look like one of the top QB's in the Northwest. He went 19 of 24 for 372 yards and 3 Td's in #4 GP's 49-10 win over Thurston. Meadows is back after a 2nd team all conference season, catching 7 passes for 132 yards and 3 TD's (23,11,38).
Keegan Hlad Sr. WR West Salem– Oregon's top receiver continues to make some incredible catches, with 2 more TD's (20,23) in the 35-34 loss to South Salem on Friday.
Derek Brown Jr. RB Redmond– We have talked a lot about Brown early this season as the Junior has helped the Panthers go (4-0). He had 33 carries , for 309 yards and 6 TD's in the 49-27 win over Hood River.
Gabe Matthews Jr. QB South Salem– The Saxons are Oregon's surprise team of the year thus far, beating a good West Salem squad 35-34. Matthews went 13 of 21 for 205 yards and 3 TD's, also rushing 18 times for 119 yards and a score. Matthews has accounted for (21) TDs this season.
Silverton D– Once again the Foxes have one of the top defense's in the Northwest, allowing 25 total points (6,6,13,0) in 4 games this season. They blasted a traditionally talented Crescent Valley squad 51-6.
Nick Janakes Sr. RB North Medford– Janakes should be considered one of the SWC Player of the Year favorites as he continues to dominate each week. He made quick work of South Eugene carrying the ball 11 times for 192 yards and 2 TDs (16, 47) in their blowout win.
Trever Watson Jr. QB Springfield– The returning MWC player of the year looks to be back in his groove, passing for 324 Yards and 4 TD's, while rushing for another score in the Millers big 40-34 win over #3 Mountain View.
Jordan Marti Sr. RB / Kyle Schulson Jr. ATH Prairie (WA)– The RB combo averaged over 20 yards per carry in the 49-0 win over Fort Vancouver, with Marti rushing 7 times for 145 yards and Schulson adding 7 more carries for 131 yards.
Tyler Kelsch Sr. QB South Albany– Kelsch is the key if the Rebels want to make a run. He accounted for 6 TD's (5 passing, 1 rushing) going 12 of 18 for 204 yards in the 62-20 win over Woodburn.
Bryce Bumgardner Jr. WR /Myles Terry So. RB/ Levi Norton So. QB St Helens– The Lions lost 53-41 to Hillsboro but they have an outstanding group of underclassmen. Bryce Bumgardner caught TD's of (69,73,59) yards, with Norton throwing 6 touchdown passes… Terry is one of the most talked about sophomores in Oregon as he added 2 TD's.
Bryan Kelly Sr. RB Camas (WA)– The Papermakers are legit as Kelly averaged 17 yards per carry in their win over Evergreen. He rushed 11 times for 187 yards and 2 TD's.