**This list is a way to showcase the weeks top performances. I am sure I missed a few and would like to know the ones I did. You can either comment on here or send me an email at Ringerland@gmail.com, and I will be sure to add them.**
If you would like to vote for this week's Elite Performance, head on over to our voting page Right Here .
Brett Rypien, QB '15, Shadle Park – The Boise State commit had one of his best days, and also hit a major milestone in a 47-33 win over Central Valley. Rypien finished completing 27 of 48 passes for 477 yards and six touchdowns, and went over the 10,000 yard mark for his career. The state record for passing yards is 12,953 (Max Browne – Skyline).
Tanner Aliff, RB '15, Bellingham – Aliff went off, finishing the night with 39 carries for 449 yards and seven touchdowns, as the Red Raiders topped Charles Wright 47-30. That performance ranks Aliff 6th all-time for single game rushing yards. It was also the first win for Bellingham in nearly two years.
Gunner Talkington, QB '17, Battle Ground – This is the second time this season that Talkington has gone absolutely nuts. He finished completing 34 of 47 passes, for 501 yards and three touchdowns, but the Tigers lost to Mountain View 56-42. The 501 yards ranks 9th all-time for single game passing yards.
Conner Kennedy, RB '15, Capital – Kennedy is one of the state's top backs, and show it this week, as he carried 20 times for 307 yards and four touchdowns. The Cougars evened their record at 2-2, with a 31-13 win over Narrows 3A foe Foss.
Andrew Zimmerman, QB '15 / JJ Jerome, RB '17, Monroe – Zimmerman completed 11 of 14 passes for 266 yards and four touchdowns, almost all in the first half. Jerome had four first half touchdowns, and finished with 151 yards on nine carries. The sophomore also added a 25 yard reception for a score in the second half, as the Bearcats hammered Jackson 62-20, to run their record to 4-0.
Jacob Ta'ase, QB '15, Ballard – The senior gunslinger completed 21 of 30 passes for 301 yards and three touchdowns, as the Beavers topped Chief Sealth 48-20. Ta'ase also rushed for 70 yards, and two more touchdowns.
Nathan Ball, RB '15, Moses Lake – The Chiefs improved to 3-1 on the season by hammering Eisenhower 41-0 in a Big Nine Conference matchup. Ball finished with 225 yards on 17 carries, scoring on runs of 2, 55 and 65 yards.
Markus Goldbach, RB '15, Freeman – Goldbach carried 11 times for 181 yards and three touchdowns (5, 6 and 40 yards), as Freeman beat Chewelah 53-0. The Scotties are now 4-0 on the season, and ranked #2 in our 1A rankings.
Shannon Edwards, RB '15, Graham-Kapowsin – In a 48-14 win over the Curtis Vikings, Edwards finished with 143 yards on 23 carries and three touchdowns. The win got the high touted Eagles back in the win column, following an OT loss the week before.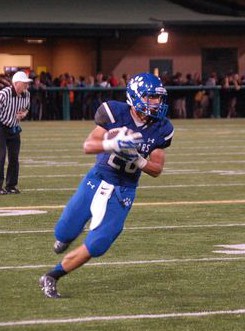 Chico McClatcher, RB '15, Federal Way – McClatcher has been on a rampage the last two weeks, showing why he is one of the more exciting athletes in the nation. He finished with 252 all-purpose yards and three total touchdowns (2 rushing, 90-yard KO Return), as the Eagles beat rival Jefferson 55-35.
Sam McPherson, RB '15, Bothell – The top ranked Cougars improved to 4-0 with a 43-13 win over Mount Si. The senior back finished with 132 yards rushing and four touchdowns, adding a fifth touchdown on a 90 yard kick return in the fourth quarter. McPherson may be the state's most underrated athlete, and shows it on a weekly basis.
Salvon Ahmed, ATH '17, Juanita – The sophomore racked up 139 yards rushing on 15 carries and two touchdowns, as the Rebels topped Mercer Island 24-17 in a Kingco 3A conference game. Ahmed finished with 188 total yards.
Jacob Bradshaw, WR '15, Olympia – The Bears are 3-1 after a 38-6 win over Timberline on Friday night at Ingersoll Stadium. Bradshaw finished with 8 catches for 155 yards and a touchdown. Olympia looks to be an under-the-radar team in the Narrows 4A.
Gabe Caskey, RB '15 Ellensburg – Caskey carried 15 times for 285 yards and two touchdowns (80 and 78 yards). He added a five yard touchdown reception, as the Bulldogs doubled up Othello 28-14 in a CWAC game.
Tanner Myhre, QB '15, Nooksack Valley – The Pioneers dropped to 2-2 on the season, following a 24-14 loss to rival Mount Baker. Myhre was 25 of 45 passing, for 327 yards and two touchdowns (57 and 30 yards).
Tevin Gray, '15 WR, Lake Stevens – The senior wide-out finished with nine receptions for 189 yards and two touchdowns, as the Vikings topped Snohomish 41-21 in a Wesco 4A matchup. Gray is one of the state's top athletes, and is a key member of a top ten ranked Lake Stevens team.
Jadon McCabe, RB '16, Cashmere – In a 19-13 win over Royal, McCabe carried 30 times for 139 yards and two touchdowns, including the game-winner in overtime. This was a battle of two top ten teams in the 1A classification, and it lived up to the billing.
Easton Trakel, ATH '16, Tumwater – In possibly the most impressive win of the weekend, Trakel rushed for 214 yards and a touchdown, returned a kickoff 82 yards and also had an interception. The Thunderbirds beat one of the top 5A teams in Idaho, Lake City, 49-24 and are now 4-0 on the season.
Malik Braxton, ATH '15, Meadowdale – Doing a little bit of everything for the Mavericks in a 30-19 win over previously unbeaten Glacier Peak, Braxton finished with three touchdowns. The senior opened the scoring with a 5 yard reception, followed by an 82 yard reception to put widen the gap to 23-0, and iced the game with a 28 yard run in the fourth.
Sterling Somers, QB '16 / Jordan Wittenberg, WR '16, Lynden – The top-ranked Lions improved to 4-0 on the season with a 35-7 win over Anacortes. Somers finished 14 of 21 passing for 263 yards, with two touchdowns (58 and 7 yard pass), and also had eight carries for 75 yards and another score (5 yards). Wittenberg had five catches for 116 yards and two touchdowns.
Josh Phillips, RB '15, Richland – The Bombers got their first win of the year, 42-12 over Hanford. Phillips carried 21 times for 176 yards and four touchdowns. He scored on runs of 12, 3, 48 and 3 yards, all in the first half. as the Bomber jumped out to a 35-0 lead.
Braiden Beckman, LB '15, Kentridge – Beckman is a tackling machine, and racked up 21 total tackles, including three for a loss, and had a fumble recovery. Kentridge led at the half, but couldn't hold it as they lost to rival Kentwood 41-10.
Thomas Pier, RB '16, Tenino – Pier has been running wild this year, but the Beavers are 2-2 after a 44-14 loss to Elma. The junior back finished with 196 yards on 18 carries and two touchdowns.
Killian Page, RB '15, Marysville Pilchuck – The senior back finished with 198 yards and two touchdowns (34 and 44 yards), as the Tomahawks got back into the win column with a 44-14 win over Stanwood.