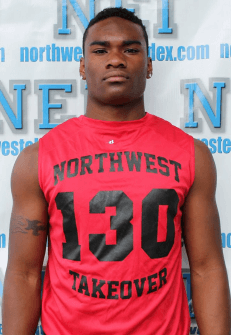 One of the Northwest's most exciting athletes added to his list of scholarship offers this week, as Sam Inos (5-11 180 Sr. ATH/DB) received his 3rd overall from Montana St.
The Tigard standout is ranked our #1 athlete in the State of Oregon for the class of 2015, already receiving offers from Idaho and Eastern Washington. He projects as a DB but can play on either side of the ball at the D1 level, as referenced earlier this season with his 229 yard/ 5 TD performance against Beaverton.
Speaking on the offer from the Bobcats Inos says, "I'm very blessed to have received this offer, along with the others". Adding, "It tells me that my hard work has been paying off, as Montana St is a great program that I am excited to have an opportunity to potentially be a part of."
Former Northwest standout Cody Kempt is back coaching at his alma mater, and doing a phenomenal job of recruiting the region. MSU is currently (4-2) with a 52-51 loss to top ranked Eastern Washington a few weeks back. The Bobcats are a legit conference title contender once again.
Sam has a stock that will continue to rise as he looks like the most versatile kid in Oregon. Any time he has the ball in his hands he is a threat to go to the house. Tigard is currently ranked the #2 team in the state, and will need his leadership with #10 Lake Oswego and #7 West Linn on the schedule over the next two weeks. We will keep you updated as the season progresses.