Click for Michael Waters Highlights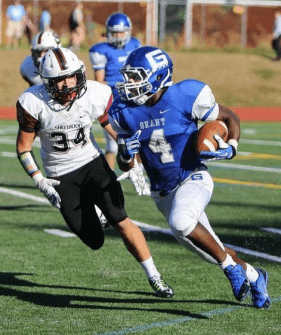 If we are talking about the top players in Oregon thus far, covering the first half of the season, Michael Waters (5-9 195 15′ RB/DB) is one of the first names that comes to mind.
The talented senior out of Grant has been electric, consistently making plays on both sides of the football. He has gone for over 1000 all purpose yards and 846 yards on the ground, while scoring 14 TD's, as the Generals are 3-2.
Grant's record is somewhat deceiving as they dropped their first two games to traditional state powers in #2 Tigard and #8 Sherwood. One of Oregon's top head coaches Diallo Lewis embraced Waters as he made the transfer from Madison in 2013.
Referencing the first month of the season Michael says, "The first two games taught us we all need to stick together no matter what, while focusing on our number one goal which is winning the PIL." Waters averaged almost 250 all purpose yards a game in the teams first two contests, setting the tone for the year.
As of now he is considered a PIL favorite for player of the year honors, with a showdown versus defending 2013 champion Roosevelt, and returning POY Kimane Domena looming. Speaking more on the transfer Waters says, "The transition from Madison was relatively easy cause I have always run the spread offense". He continued,"Coach Lewis pushes you to fight for one another, as football is more than just a game, its a brotherhood."
In the first 3 games of the PIL season he has totaled 11 TD's and 4 INT's, which only touches on his potential. His ability to bounce and accelerate are rare, as more and more people are starting to pay attention.
He isn't the biggest kid, but you can't teach heart, and Waters has got a lot of it. In closing he says, "I would like to give a shout out to my offensive line, they have been fabulous week in and week out, and have really stepped up and set the tone for the rest of the year."