**This list is a way to showcase the weeks top performances. I am sure I missed a few and would like to know the ones I did. You can either comment on here or send me an email at Ringerland@gmail.com, and I will be sure to add them.**
If you would like to vote for this week's Elite Performance, you can do so Right Here .
Chase Resch, ATH '15, Wenatchee – Resch literally did a little bit of everything for the Panthers this week, as he scored a touchdown four different ways. He scored on 6 yard run, 58 yard interception, 59 yard reception and also tacked on a 70 yard kick return, as Wenatchee blasted Sunnyside 58-0.
Chico McClatcher, ATH '15, Federal Way – Another banner night for one of the state's top recruits, as he broke the SPSL record for rushing yards in a game. He finished the night with 379 yards on 19 carries and five touchdowns, as the Eagles beat up on rival Decatur, 70-24.
Liam Fitzgerald, QB '16, Camas – The junior gunslinger finished the night 21 of 28 passing for 366 yards, with six total TDs (5 Pass, 1 Run), and Camas stayed unbeaten with a 56-24 win over Skyview. For the season, Fitzgerald is now 78 of 121 passing with 1,235 yards and 14 touchdowns through the air.
Paul Wells, RB '15, Newport – Wells is one of the more dynamic all-around athletes in Washington, and this week he rushed for 195 yards on 25 carries and two touchdowns. He also had an INT, as the Knights got a much needed 20-10 win over Eastlake in Kingco4A play.
Bryce Williamson, RB '15, University – Another big night for Williamson, who finished with 17 carries for 161 and six touchdowns, as U-Hi beat Rogers 56-20. The senior back scored on runs of 13, 9, 7, 1, 1 and 7 yards, to help bring the Titan's record to 4-1 on the season.
Gunner Talkington, QB '17 / Parker Randle, WR '15, Battle Ground – Seems like every week now Talkington is one of the state's top performers. This week he finished 21 of 28 passing for 360 yards and five touchdowns (35, 15, 7, 38 and 15 yards). On the season, Talkington is now 117 of 178 (65%), for 1670 yards and 16 TD's. Randle finished with 7 catches for 151 yards and two touchdowns. The senior wide-out is averaging close to 6 catches and over 100 yards per game.
Austin Urlacher, RB '15, Chiawana – The Riverhawks are absolutely rolling right now, following a 31-14 win over Kamiakin. Urlacher carried 26 times for 303 yards and three touchdowns. The senior may be the state's most underrated back, and scored on runs of 10, 74 and 53 yards.
Killian Page, RB '15, Marysville Pilchuck – Page needed just 12 carries to rack up 234 yards and four touchdowns, as the Tomahawks pounded Marysville Getchell in the Berry Bowl. Page is going to see more and more carries as the Tomahawks look to lighten the load of star back Austin Joyner.
Myles Gaskin, RB '15, O'Dea – Gaskin, a University of Washington commit, carried 28 times for 292 yards rushing and a touchdown, as the Fighting Irish scored 31 unanswered points to beat previously unbeaten Blanchet 31-7 in a Metro Mountain division matchup.
Shannon Edwards, RB '15 / Trevor Asbjornsen, QB '15 Graham-Kapowsin – Another big night for the senior duo, as GK blasted rival Spanaway Lake 45-14. Edwards rushed for 171 yards and three touchdowns, while Asbjornsen threw for 258 yards and two touchdowns. Graham-Kapowsin is on a roll after losing two weeks ago.
Brandon Thompson, RB '17, Yelm – It was a workhorse type night for the sophomore back as rushed for 217 yards on 29 carries and scored a touchdown, as Yelm got back into the win column, 16-6 over Stadium. Thompson looks to be one of the more exciting backs in the 2017 recruiting class.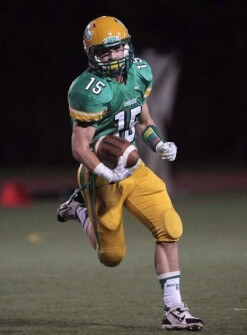 Brett Rypien, QB '15, Shadle Park – Your weekly Rypien update shows a 35 of 45 night passing, for 352 yards and three touchdowns. The Highlanders beat previously unbeaten Gonzaga Prep 25-13 at Joe Albi Stadium. 15 of Rypien's passes, and 122 yards, went to WR Jahden Nguyen.
Dyonte Law, RB '15, Mariner – The senior back carried 15 times for 252 yards and four total touchdowns (3 rushing, 1 receiving), as the Marauders beat Jackson 42-24. Law scored on runs of 36, 3 and 64 yards, while also hauling in a 6 yard pass.
Zavia Frazier, ATH '15, Wilson – Doing a little bit of everything for the Rams, Frazier finished with 238 all-purpose yards and four total touchdowns. Frazier rushed for two touchdowns, caught one, and had a 58 yard INT return for a score, as Wilson remained unbeaten with a 35-20 win over Shelton.
Donnell Diego, RB '16, Curtis – The Vikings ran wild on the Vikings… Wait, what… The Curtis Vikings beat the Puyallup Vikings 49-26 this week, with Diego rushing for 240 yards and five touchdowns. The win puts Curtis right back into the thick of the SPSL South playoff race.
Easton Trakel, ATH '16 / Spencer Dowers, QB '16 / Griffin Shea, WR '16 / Cade Otton, TE '17, Tumwater – All-Around team performance would be fitting this week for the #2 ranked Thunderbirds, as they hammered Columbia River 62-6. Trakel finished with 171 yards rushing on 13 carries and a TD, also threw a TD. Dowers was 5 of 11 for 166 yards and two touchdowns. Shea caught 3 balls for 92 yards and a two touchdowns, and Cade Otton (possibly the top TE in the 2017 class) had two catches for 69 yards and a touchdown.
Walla Walla Defense – The Blue Devils are a quiet 3-0 in Mid-Columbia Conference play, after a 34-0 win over the Richland Bombers. Walla Walla only allowed 91 yards of offense, and are giving up just over 9 points per game during league play.
Braiden Beckman, LB '15, Kentridge – Beckman may be the state's leading tackler, and is good for over 10 tackles a week. He finished week five with 14 tackles, a forced fumble and an INT, but the Chargers dropped a 31-9 decision to rival Kent-Meridian.
Davis Alexander, QB '16, Gig Harbor – Alexander is the definition of the football term "gamer". He may not wow you in any specific aspect, other than the fact he is an efficient passer and just wins games. This week, in a 48-7 win over South Kitsap, Alexander threw for 256 yards and four touchdowns.
Riley Krenz, WR '16, Lake Stevens – Krenz is one of the top receivers in the 2016 class, and had four catches for 121 yards and two touchdowns, as the Vikings moved to 4-1 with a 52-0 win over the Cascade Bruins.
Alex Krueger, RB '15, Zillah – The Leopards moved to 5-0 on the season, with a 39-33 overtime win over previously unbeaten La Salle. Krueger carried 34 times for 155 hard earned yards and two touchdowns (1 and 9 yards). He also had two receptions for 28 yards.
Nate Shubert, TE '16, Kamiak – Shubert finished with five catches for 142 yards and a touchdown, as the Knights knocked off previously unbeaten Monroe 27-23 in a Wesco 4A matchup. Kamiak is now 4-1 on the season, after an opening with loss to Marysville Pilchuck.
Isaiah Williams, RB '16, Kentwood – The Conks are now 5-0 on the season, after downing Tahoma 28-0 in a SPSL Northeast game. The junior back finished with 20 carries for 162 yards and two touchdowns.
Dante Thomas, RB '15, North Thurston – Thomas finished the night with 174 yards on 18 carries and had two touchdowns. North Thurston got their first win of the year with a 51-0 blowout of Foss.
Tristan Brock, QB '15, Mount Vernon – In a 23-17 OT loss to Snohomish, Brock finished with 238 yards on 30 carries. He is also one of the state's top linebackers and had an INT this week.
Alex Bing, RB '18, Franklin Pierce – Bing is a name you are going to hear a lot about for the next four years, as the dynamic back is just a freshman. This week he ran for 150 yards on 14 carries and finished with three touchdowns, as the Cardinals moved to 3-0 in league play with a 32-14 win over Orting.