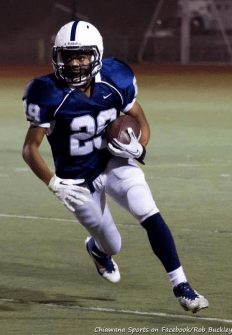 Great news out of the Tri-Cities, where Chiawana (Pasco, Wash.) ATH Dre Dorton has received his first offer, from the University of Idaho.
"It feels pretty good," Dorton told NEI. "Now I know for sure that after high school football I would have a place to play for 4 more years in college, if all goes well."
The 5-foot-10, 180 pound Dorton was visiting Moscow for a game when the offer came down.
"During their pre-game I was on the field watching the receivers," Dorton said. "Coach (Charley) Molnar came up to talk to me and introduce himself. Then head coach Paul Petrino came up to me, introduced himself to me as well, then had told me he really liked the way I play and before he left back to coach he told me that he has a scholarship for me."
Dorton is a two-way standout for the Riverhawks, having the ability to play both receiver and corner, and said the Vandals offered him as a corner.
Right now, Dorton plans on visiting Eastern Washington with a few of his teammates, and the general idea is the Eagles may offer.
The floodgates could very well open for Dorton, as he has seen his stock steadily rise since winning a state championship last season.
Chiawana is now 4-1 on the season, and are in the driver seat for another Mid-Columbia Conference championship. If the Riverhawks are to make another run towards a state title, expect Dorton to be one of the main reasons.
We will keep you updated on Dorton, as he looks to add to his offer sheet in the near future.