Click Here For Taylor Rapp Highlights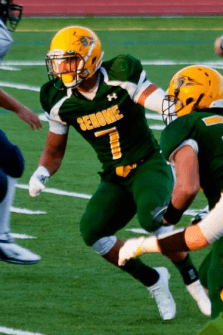 News coming down about one of Washington's top 2016 class athletes, as Sehome's (Bellingham) Taylor Rapp picked up two offers in the last week, when Montana State and Washington both came calling.
"It felt amazing to finally get that first offer from Montana State," Rapp told NEI. "The recruiting process gets very frustrating but I trusted the process and kept working hard. Then it felt great when UW finally offered.
"To get a huge offer like that from a PAC-12 school is a dream come true."
Rapp is a dynamic all-around athlete and it was only a matter of time before the top schools started offering. He is ranked by some services as top 10 safety in the country.
"I've been in contact with UW for awhile now, since their camp in the summer," Rapp said. "Since then the interest has been rising and rising. Last week I talked to Coach Peterson on the phone and he wanted my parents and I to come down to UW Sunday and sit down to talk with him.
"I had a pretty good idea that they were going to offer since I've visited already and talked to all the coaches."
This could be the first of many offers for Rapp, who receives more than his fair share of mail on a daily basis, and has been in contact with a few other top schools.
"Some schools that I have actually been in contact with is Boise State, Oregon State, Oregon, USC, Arizona, Arizona State, and Northwestern," Rapp says. "I don't really know if any of those schools are close to offering, could be or could not be. I don't like to get my hopes up very much because things happen.
"I don't really have a timeline right now for making a decision. I'm just kind of soaking in the recruiting process and taking it very slowly since my decision will be huge in my life. I want to take the time to make sure I make the right decision for me."
Rapp and the Mariners are in the midst of a tough league schedule, and currently sit at 2-3 overall. I will be heading north to Bellingham on the 30th to watch Sehome play, and will have a report from the game.