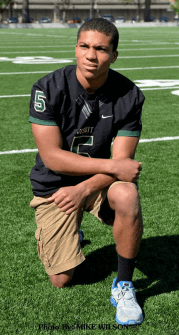 One of the top Junior backs in the Northwest is Jason Talley (6-1 200 16′ RB) of Jesuit. On Friday he went off against an undefeated Westview team, rushing 38 times for 198 yards and 4 TD's.
Jason is the brother of record breaking tailback Jordan Talley, now at Eastern Washington. The youngest Talley set the tone Friday in a back and forth shoot out where he was a difference maker. Jesuit's 49-44 victory is big as the Crusaders (3-2) have played #1 ranked Central Catholic, #6 Sheldon, and the #8 Wildcats early this season.
Talley returns after earning 2nd team all league honors at fullback as a sophomore. He is in a unique situation playing with the very talented Chase Morrison, who went for over 2000 yards and 30 TD's last year. He has continued his tear this season.
Jason has the potential of being the top ranked back in Oregon for the 2016 class. That said he will still be splitting carries with Morrison. A scenario very similar to the one created last year when current Stanford standout Joey Alfieri got the bulk of the carries.
Coach Potter usually has the state's top talent running the ball and this year is no different. Referencing last week Talley says, "After Chase went out I wanted to step in and show people what I could do". Adding, "Hopefully they got a little taste of what is to come in the coming weeks."
As most people know the Crusaders started seven sophomores in last years state title game. They are currently ranked the #5 team in the state and are the overwhelming favorite to win another Metro League title.
Talley will benefit from the likes of WR Jordan Happle, who has become one of the hottest recruits in the West for the class of 2016. In years past opponents have been able to focus on the run but this is no longer the case. Junior QB Eric Restic and Happle have been torching defenses and making teams respect both aspects of their game.
Talley is a big, fast, and physical kid that will just continue to get better. He is the type of back that will appeal to many division 1 universities. We will hear a great deal more from Jason in the years to come and wish him and the Crusaders continued success.