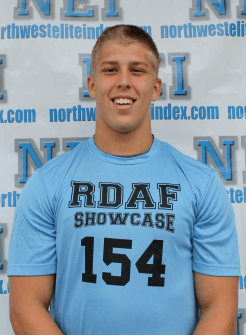 One of the state's top two-way athletes made his commitment, as Cascade Christian (Puyallup, Wash.) TE/LB Mason Tobeck made it known he will be attending Utah State University next season.
"I chose Utah State because when I took an unoffical visit over the summer I really loved the town of Logan and the facilities where great," Tobeck told NEI. "Also, the coaches where awesome. I loved talking woth coach (Joe) Lorig and head coach (Matt) Wells, they are really great people."
Tobeck picked the Aggies over Idaho, Wyoming, Colorado State and Montana State, but the Utah State offer was one that had eluded the 6-foot-2, 220 pound senior.
"I had been in contact with Utah State over the summer and I knew I really liked it there,"Tobeck said. "So when they offered me, I knew they where the right choice."
Right now Tobeck is focusing on his season with Cascade Christian. The Cougars are 5-0, and ranked #1 in our 1A poll, as they head into Nisqually League play this week.
He will be taking an unofficial visit this coming weekend to see the Aggies take on the Air Force Falcons, but doesn't plan on taking his official visit until after the season is over, in December or January.
Tobeck is a class act, and one of the more humble athletes I have been around. Seeing him make his commitment is rewarding in a way, as we are such big fans at NEI.
"I would like to thank all my friends and family especially my mom and dad for helping me through this process," Tobeck said. "I would also like to thank my High School coaches for helping me be a better player, and Utah State for giving me this opportunity to be an Aggie!"
We wish Mason the best of luck in the future, as he makes a run towards a state championship, and as he heads off to college.