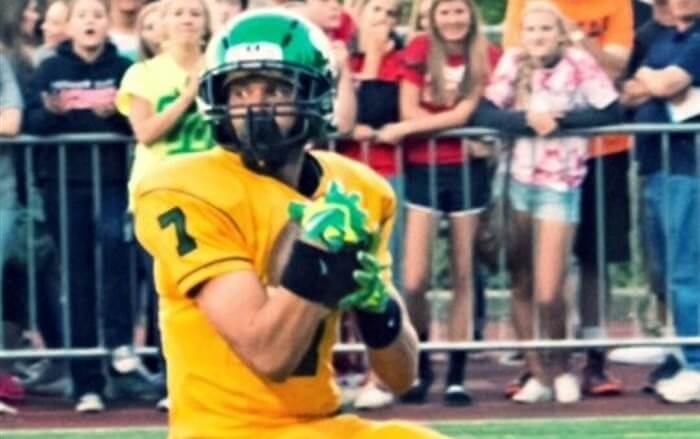 **It's still early and there will be a lot of kids added to this list in the coming year. That said we have a very talented 2017 class within Oregon, as multiple athletes are already contributing at the Varsity level. Have a look at the state's top Sophomores and feel free to chime in as to who may have been overlooked.**
Elijah Molden 5-11 175 CB/RB West Linn– One of the country's top ranked athletes for the class of 2017. Elijah already holds offers from Oregon and Washington and could be one of the most recruited kids to ever come out of the Northwest. He will be an offensive and defensive player of the year candidate within the state of Oregon in the coming seasons, accounting for 6 TD's thus far for the #8 ranked Lions (5-1).
Anthony Adams 6-0 180 ATH/S Newberg– One of the top two way threats on the west coast. Anthony can play the QB or WR spot, and is the brother of D1 WR Darnell Adams of Portland St. Adams was an underclassmen MVP on the Barton Football 7 on 7 travel squad that we took to Vegas last Spring.
David Morris 6-3 200 RB/S Sherwood– Morris has legit D1 size and speed and could very well end up being one of the most recruited kids in the country for his class. He has already scored 5 TD's this season and is one of the teams leading tacklers. He is the brother of D1 commit Cristian Morris, one of the top players in SHS history.
Anthony Albright 5-7 170 RB Beaverton– One of the fastest kids in the region with Thomas Tyner like speed. Albright has been featured out of the Beavers backfield scoring 5 TD's on the year. He is also one of the most dangerous return men in the Northwest.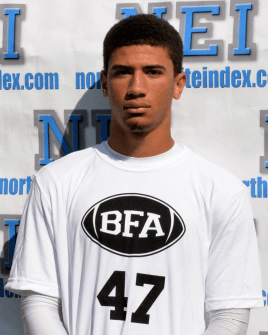 Tim Tawa 5-11 170 QB West Linn– Tawa is a D1 baseball kid that is looking like a division 1 QB as well. He has had a phenomenal season thus far throwing 18 TD's to 1 INT, for 1502 yards on 102-144 passing (71% Com Pct). He will lead a Lions group that will be a conference and state title contender in the coming seasons.
Malik Thirdgill 6-2 225 DL/LB/RB Central Catholic– Thirdgill has all of the intangibles needed to be a high profile D1 athlete. He will project on both sides of the football as he is incredibly athletic for a kid with his size.
Luka Nixon 6-6 215 TE/DE Sherwood– Nixon is a very athletic 6-6 and will be one of the most recruited kids in Oregon. He is currently a factor on both sides of the ball, adding multiple sacks and being a huge asset from his TE spot.
Alex Forsyth 6-4 270 OL West Linn– Maybe the top O lineman in Oregon for the 2017 class. He is a unquestioned D1 kid with a non stop motor. Forsyth has already been a big part of this much improved Lions group. Expect to hear a great deal from him in the coming seasons.
Jack Holum 6-5 220 DE Lakeridge – Holum is already getting in the mix from his DE spot and will be a top Northwest D lineman. You can't teach 6-5 and athletic and he provides the Pacers with both aspects.
Marlon Tuipulotu 6-2 275 DL Central– This kid has been an absolute monster. He could very well be one of the most recruited D lineman in the West for his class. He has accumulated 40 total tackles, 14 tackles for loss, and 9 sacks for the Panthers.
Myles Terry 5-10 180 Slot/DB St Helens– One of the most talked about Sophomores in Oregon. Terry is a nationally ranked wrestler and a phenomenal football player. He has accumulated 42 total tackles and 8 TD's so far this season, and is the exception to the rule if we are talking about smaller athletes that could play D1 ball.
Nicholas Ah Sam 6-0 200 LB Springfield– Ah Sam is a freak athlete and one of the better basketball players in the state. He started as a freshman and will be a conference player of the year favorite in the coming seasons.
Cole Loboy 6-2 215 LB Clackamas– Loboy is one of the top LB's in the Northwest for the 2017 class and the future of this Cavalier program. He has accumulated 53 total tackles, 2 INT's, and 1 tackle for through 6 games as Clack is (5-1).
Michael Abraham 6-1 205 RB/LB Central Catholic– Initially missed on this list due to injury. One of the NW's top backs. Played Varsity ball last season, and went for close to 30 TD's at the freshman level. Abraham will be next in line behind the likes of Scarlett, Rust, and Breeze. He is one of the most talented overall athletes in the region with legit size and speed.
Daniel Green 6-1 195 ATH Grant- One of the most talented kids in the PIL. Greene has added 55 total tackles, 3 Sacks, and 2 INT's for the Generals this season and brings legit size and speed to the table.
Chase Warren 6-2 175 QB North Medford– One of the most polished QB's in the region for the 2017 class. Warren transferred from Crater this past season and will get a chance to lead the Black Tornado once SWC POY Troy Fowler graduates.
Mason Elliott 6-2 170 WR Westview – One of Oregon's top sophomore receivers. He has legit size and speed, averaging 15 yards per catch. His breakout 119 yard receiving, 3 TD performance a few weeks back against Beaverton speaks to his upside.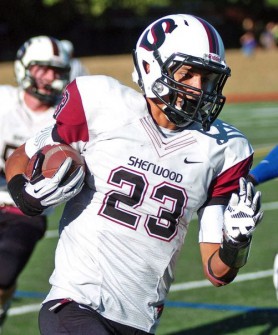 Tanner Smith 6-2 230 LB Oregon City– Smith has legit size and is one of the most impressive backers in the Northwest for the 2017 class. He is one of the Pioneers top defensive players as a sophomore.
Trey Davis 5-11 165 WR/CB Central Catholic– Davis will be one of the state's top ranked athletes on both sides of the football. He comes from a football family, with his father being a 4 year starter at Oregon State, and his brother Zack earning 1st team all state honors last season.
Connor Neville 6-2 190 QB Wilsonville– Most have already heard about Neville as he was a standout on the camp circuit this past season. He has all of the tools throwing 9 Td's to 4 INT's for the Wildcats to date.
John Bledsoe 6-1 185 QB Summit– The son of former All Pro Drew Bledsoe can play. The Storm have some talented up and coming underclassmen and John will get a chance to lead moving forward.
Zach Diehl 6-1 190 ATH/QB Sheldon– I'm a big fan of Diehl as he is one of the most versatile kids in the region. He can play multiple spots including the quarterback position, and will be a featured athlete for the Irish in the coming seasons.
Seteki Kinnikinni 6-3 320 DT/OL Roosevelt– Kinnikinni is massive and very mobile. He will require a consistent double team from opponents and will be one of the most recruited lineman in the Northwest.
Tre Holmes 6-0 255 DT North Medford– Most know the name as he comes from one of the most impressive families in the region. His cousin Tyrone is an all American candidate at Montana and brother Tristen is a D1 kid and ranked the state's top CB. Tre started as a freshman and is a beast on the interior.
Demetrius Douglas 5-11 160 ATH Jesuit – Douglas will play a primary role for the Crusaders in the coming seasons. He is a very versatile athlete that should see the ball often.
Jonny Neville 6-4 190 WR Wilsonville– Jonny will have a chance to dominate in the coming seasons. He is averaging 16 yards per catch and brings size and precise routes to the table.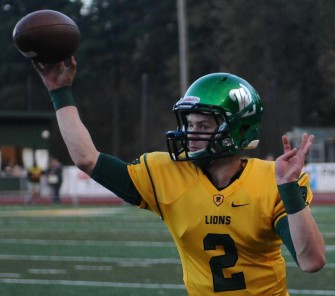 OTHERS
Ben Shimota 6-1 200 LB Lake Oswego
Cody Shear 6-2 235 OL/DL Sheldon
Mike Irwin 6-1 190 QB Mt View
Zane Partipilo 6-2 210 RB/LB Canby
Sam Olsson 5-11 195 QB/ATH Sheldon
Jake Ireland 6-2 180 WR Crater
Joel Daul 6-3 195 TE/LB Jesuit
Kyle Cornett 6-0 165 WR/FS Summit
D.J Dalzell 6-0 160 Slot Lakeridge
Marcus Lydon 5-11 175 DB Marist
Austin Kirkwood 6-3 175 OLB/TE Canby
Ethan Gallant 6-1 200 LB Central Catholic
Gavin Kim 6-0 210 LB Tigard
Zarykk Davis 6-3 225 DE Scappoose
Colton Albertson 6-3 240 DL St Helens
Manuel Bravo 5-10 180 S West Salem
Trevor Thiessen 6-0 155 DB Banks
Tyler Cancelosi 6-1 200 ATH Tigard
Zack Delashmutt 6-0 195 LB Newberg
Brandon Doblie 6-0 185 ATH Lakeridge
Conner Morris 6-0 170 RB Newberg
Brandon Ahlgren 6-2 230 LB West Linn
Scott Friedrich 6-2 255 OL Newberg
Andrew Merrick 5-11 175 ATH Wilsonville
Ben Hoge 5-7 155 Slot Lincoln
Derek Jackson 6-0 180 RB Century
Beau Bryant 6-2 205 DE Lakeridge
Levi Norton 6-1 225 QB St Helens
Berkely Neuman 5-11 245 DL Sheldon
Nick Wiley 6-0 215 LB Sunset
Jason Rucker 6-1 170 ATH Westview
AJ Raye 6-4 250 TE/DL N.Medford
Alex Lynch 6-2 220 LB/FB West Albany
Bobby Chaney 5-10 165 Slot S.Medford
Hayden Layton 6-3 210 ATH/LB Ashland
Calvin Classen 6-0 205 RB/LB Grants Pass
Cordell Moore 5-9 155 RB West Albany
Kyle Chapman 6-1 165 ATH/ OLB Thurston
Tanner Zenke 5-11 165 RB Sheldon
Jarred Daul 6-3 185 RB/LB Jesuit
Jaxson Kirkland 6-5 285 OL Jesuit
Wyatt Smith 6-0 170 QB McMinnville
Andrey Kipko 6-0 190 LB Mckay-
Reed Dixon 5-9 180 ATH Mountain View
Bunker Parrish 6-0 165 QB Redmond
Andrew Pieringer 6-1 180 RB/OLB Lake Oswego
Michael Jarrett 5-11 185 RB/LB Jesuit
Sam Paris 6-2 215 LB Lincoln
Dequahn Dennis-Lee 6-0 155 QB Oregon City
Nick Brotton 6-0 185 WR/S Sprague
Spencer Klein 5-7 195 RB/LB Mountain View
Perry Davis 5-10 165 RB Silverton
Noah Seumalo 5-11 195 LB Corvallis
Travis Mackay 6-2 200 DE Central Catholic
Edmond Slevin 6-0 200 RB Lincoln