**This list is a way to showcase the weeks top performances. I am sure I missed a few and would like to know the ones I did. You can either comment on here or send me an email at Ringerland@gmail.com, and I will be sure to add them.**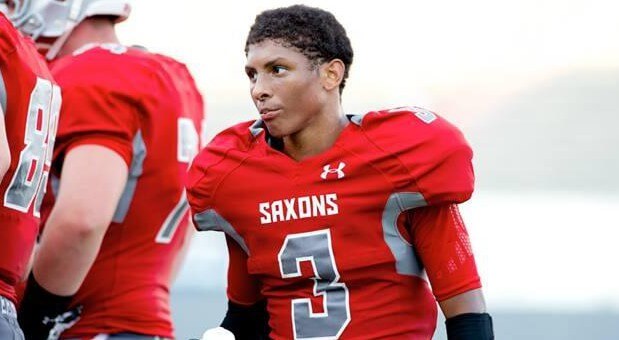 If you would like to vote for this week's Elite Performance, you can do so Right Here .
Jalen Hicks, RB 15, Ferris – Hicks, one of the state's top athletes carried 29 times for 360 yards and five touchdowns. The senior back scored on runs of 39, 34, 41, 88 and 45, as the Saxons beat previously ranked Shadle Park 43-34. The 360 yards are a Ferris school record, and just 6 yards short of a GSL record.
Brandon Thompson, RB '17, Yelm – Thompson again makes his case as one of the top RB's in the 2017 recruiting class, this time carrying 36 times for 367 yards and 7 touchdowns, as the Tornadoes beat Evergreen (Vancouver) 50-40 in a non-league matchup.
Eli Whitmire, ATH '15, Woodland – If you haven't seen Whitmire yet, you are missing out. In a 56-21 win over Mark Morris, Whitmire finished with 212 yards of total offense, seven touchdowns and three interceptions. The seven touchdowns broke a previous school record held by his dad, a record that stood for 42 years.
Davis Alexander, QB '16, Gig Harbor – In a 41-0 win over Timberline, Alexander completed 25 pass for 389 yards and five touchdowns. He accounted for over 450 yards of total offense on the night. Alexander is quickly becoming one of the top QB's in the 2016 recruiting class.
Meadowdale Defense – The Mavericks held Lynnwood to -25 yards and didn't give up a single first down. Defensive Back Malik Braxton returned an INT for a touchdown, and to top it off, they had two safeties, all in a 41-7 win. Lynnwood's only score came on a 100 yard INT return.
Jordan Kitna, QB '16, Lincoln – Speaking of top 2016 QB's, Kitna completed 20 of 29 passes for 430 yards and nine touchdowns in a 69-27 win over North Thurston. The nine touchdowns ties a state record, now shared with Brian Lindgren of DeSales, who threw nine in 1998.
A J Layton, LB/S '15, Mead – Layton is one of the state's top defensive athletes, and this week came away with 20 tackles in a loss to rival Mount Spokane. This is the second time Layton has made the list this season, last time he racked up 22 tackles.
B raiden Beckman, LB '15, Kentridge – Another great tackler in the state is Kentridge's Braiden Beckman. He seems to make this list just about every week, this time for his 21 tackle performance against Kentlake. Beckman also forced two fumbles and recovered another.
McKoy Bichler, QB '16, Rainier – In the Mountaineers' 48-0 win over Tacoma Baptist, Bichler finished with 337 yards total yards. The talented junior had an all-around night with 191 yards rushing, 83 yards from returns, and another 63 yards through the air.
Jo Jo Binda, RB '15, Kamiak – Binda is one of the state's more explosive athletes, and is very much under-the-radar. This week he rushed for 301 yards on 32 carries and scored five touchdowns, helping the Knights to a 47-28 win over the Jackson Timberwolves.
Tanner Aliff, RB '15, Bellingham – Aliff had another big night, this time finishing with 219 yards on 27 carries and two touchdowns. The Red Raiders defeated Bellevue Christian 35-21 in a non-league matchup. The senior back may be the state's most unknown athletes.
Brett Rypien, QB '15, Shadle Park – Interesting night for the state's top QB, as he finished with 466 yards of total offense and five total touchdowns. He racked up a ton of yards, but not exactly in the way you would think. The Boise State commit rushed 17 times for 145 yards. He also threw for 321 yards on 31 of 50 passing.
Sam Stratton, WR '15, Shadle Park – 12 of Rypien's completions went to Stratton for 154 yards and a touchdown. He scored on a 40 yard Hail Mary to give the Highlanders a halftime lead, but they couldn't hold it and loss to Ferris 43-34. Stratton is one of the state's most improved WR's and at six-foot-four and 185 pounds, is a mismatch for almost every defender.
Cody Anderson, RB '15, Emerald Ridge – The senior back finished with 219 yards on 36 carries and four touchdowns, on way to taking sole possession of first place in the SPSL South, with a 41-21 win over previously unbeaten Bethel.
Nathan Goltermann-Doyle, RB '15, Bellarmine Prep – The Lions are rolling again, following a 35-10 win over South Kitsap. Goltermann-Doyle carried 27 time for 254 yards and four touchdowns.
Nick Dritsas, RB '16, Meridian – The Trojans came away with a 45-14 win over Nooksack Valley, with Dritsas carrying 24 times for 191 yards and three touchdowns. The junior back scored on runs of 11, 70 and 3 yards out.
Kerry Jackson, RB '16, Archbishop Murphy – The junior back carried 21 times for 221 yards and scored two touchdowns, as the Wildcats blasted Granite Falls 56-7. Archbishop Murphy is now 5-1 on the season.
Gavin Hettinger, ATH '15, Auburn Riverside – It has been a rough season for the Ravens, as they dropped to 0-6 with a 38-7 loss to Bonney Lake. Hettinger has been a bright spot, and this week had 10 catches for 125 yards and the lone TD.
Thomas Pier, RB '15, Tenino – The Beavers got back into the win column with a 54-43 win over the Aberdeen Bobcats. Pier, who is now over 1,000 yards for the season, carried 24 times for 309 yards and four touchdowns.
Austin Kline, RB '15, Cheney – In a 48-6 win over Moscow (ID), the senior back carried 28 times for 223 yards and three touchdowns. He scored on runs of 20, 3 and 28 yards, to help move the Blackhawks to 5-1 on the season.
Robert Kvinsland, QB '15, Peninsula – The talented senior signal called completed 16 of 15 passes for 230 yards and three touchdowns to help the Seahawks to a 42-13 win over Enumclaw. Peninsula moved to 5-1 on the season, and setup what amounts to a SPSL championship game this week vs Auburn Mountainview.
Walla Walla Defense – Another great week for the Blue Devils, who only allowed 98 total yards to the Southridge Suns in a 28-7 win. The win moves Walla Walla to 4-2 on the season, but more importantly they are 4-0 in league play, with a big game against Chiawana this week.
Conner Kennedy, RB '15, Capital – The senior back is now over 1,000 yards on the season, after rushing for 269 yards on 21 carries and three touchdowns. The Cougars beat previously unbeaten Wilson 34-21 in a Narrows 3A conference matchup.
Jacob Eason, QB '16, Lake Stevens – The Georgia commit completed 18 passes on 31 attempts, for 316 yards and five touchdowns. Lake Stevens hammered Monroe 63-14, and are now 5-1 on the season.
Sterling Somers, QB '16, Lynden – While it may not have been the best win of the year for the Lions, they did come out on top of Burlington-Edison 23-21. Somers completed 16 passes 256 yards and two touchdowns, while rushing for one more.