John Marquette Sr. CB Oregon City– The returning 2nd team all conference DB proved legit, matching up with Cavs 6-4 WR Markus Golder and picking off Jr. QB Wyatt Hutchinson twice. OC beat the undefeated Clackamas group 28-20.
Eli Whitmire Sr. RB Woodland (WA)- Whitmire broke the schools 42 year old record set by his father, scoring 7 TD's in the Beavers 56-21 win over Mark Morris. Eli scored 5 TD's alone in the 3rd quarter, rushing for 129 yards on 8 carries. Woodland is 6-0.
Hunter McDonald Sr. RB/LB Bend – The Senior has helped the Lava Bears (5-1) become one of the hottest teams in the state, after their 42-13 blowout win over last years 4A state champion Ridgeview. Mcdonald rushed 27 times for 167 yards and 2 total TD's.
Derek Parnell Sr. ATH Southridge – The talented two way threat had 2 INT's and another TD in the Skyhawks 24-7 win over Aloha. Parnell has been a bright spot for the Skyhawks and is one of the most versatile kids in Oregon.
Austin Brisbee Sr. QB Westview– The senior QB put up ridiculous numbers in limited time during Friday's 69-7 blowout win over Glencoe. He completed 15 of 20 passes for 291 yards and another 5 Tds, to lead the state.
Coach Bill Singler South Medford– One of the top coaches in Oregon got his 100th career win over the weekend in it's 38-8 route of Roseburg. Congrats to Coach Singler as he is a class act.
Elijah Molden So. RB/Tim Tawa So. QB/Cody Coppedge Jr. WR/Connor Berggren Jr. WR West Linn– Even in the loss the young group looked the part. Molden had 139 rushing/receiving yards and 3 Td's.. Tawa was 20/29 for 337 yards and a TD, to run his total to 18 TD's/1 INT on the year. Coppedge added 5 receptions for 117, with Berggren grabbing 3 balls for 85 yards and a score.
Noah Dahl Jr. ATH Silverton– Dahl had 6 carries for 151 yards and a TD in the #1 Foxes 62-14 blowout of South Albany.
Bryan Kelly Sr. RB/ Cole Zarcone Sr. RB Camas (WA)– The Senior RB's combined for 6 Td's in the Papermakers 77-21 win over Battle Ground. Their consistent play all year has been very impressive as Camas is once again legit.
Matt Jones Sr. QB Hillsboro– The Sr. QB has played outstanding this season, torching Putnam Friday, after going 29 of 44 for 379 yards and 4 TD's. He has helped the Spartans go (6-0) thus far.
Nathan Burke Sr. DB Wilsonville– The talented senior picked off returning conference player of the year Jonathan Boland 3 times, while rushing for a TD in the Wildcats 35-16 win over Parkrose.
Caleb Browning Sr. RB/S Union (WA)– Once again Browning had a nice night, rushing 16 times for 141 yards and 3 TD's, one of which included a 50 Yard INT return. The Titans beat Heritage 42-14 to (6-0).
Brady Breeze/ Central Catholic Underclassmen– The Oregon commit had 3 TD's, including a 75 yard kick return. Five of the six Ram TD recipients were underclassmen, making the #1 ranked team in the state even scarier next year. They beat Gresham 61-26
Eric Dungey Sr. QB/ Holden Catlett Jr. Slot Lakeridge– Dungey accounted for 5 Pacer TD's (2 rushing, 3 passing) in the 42-35 overtime win. Catlett added 3 scores including an 80 yard TD run.
Pepe Tanuvasa Sr. LB Tigard– Oregon's top ranked LB had another phenomenal night, putting the hammer down on multiple LO backs, and making Verburg go to the air.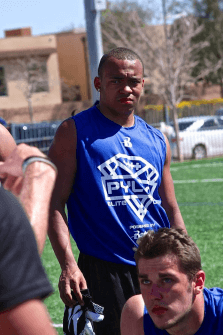 Rey Green Jr. RB Evergreen (WA)– The Junior standout caught 5 passes for 142 yards and an 80 yard Touchdown, while rushing for 22 yards and another TD in the Plainsmen 50-40 loss to Yelm.
Kasey Fish Sr. QB / Tyler Delashmutt Sr. WR Newberg – Fish has been a pleasant surprise for the Tigers this season, having a great night Friday. He finished the night with 5 TD's (3 passing, 2 rushing) with Delashmutt grabbing two TD's (24, 34)
Eric Restic Jr. QB Jesuit– The Jr. QB was efficient to say the least, going 7 of 7 for 149 yards and 4 TD's as the Crusaders cruised to a 56-6 win over Century.
Chase Crawford Jr. QB / Brady McGetrick Sr. WR Tigard– McGetrick caught 7 passes for 105 yards and a TD, while playing outstanding D. Crawford got his first start and looked like one of the top Junior quarterbacks in Oregon. The 6-3 180 pound junior is legit
Josh Emmy Sr. RB / Skyview Defense (WA)– Emmy rushed 19 times for 152 yards and a TD, leading the way. The Storm defense shutout a Mt View team 31-0 that went for 600 yards of offense a few weeks back.
Chase Knutz Sr. QB Hermiston– The Bulldogs are a legit 5A state title contender, as Knutz went 11 of 14 for 224 yards as they crushed Sandy 56-17.
Zach Hannan Sr. RB/ Javan Appling Sr. QB Grants Pass– Hannan is a leading candidate for SWC Player of the Year honors with teammate and QB Javan Appling. Zach accounted for 275 yards (184 rushing, 91 rushing) on only 10 touches. His 27.5 yards per touch average put the exclamation point on GP's 38-21 win over N.Medford.
Byron Greenlee Sr. CB/WR / Liberty D– The returning 1st team all league 6-3 DB has 5 INT's in the last 2 games, as the Falcons are now (5-1) after blasting Miwaukie 63-2.
Trever Watson Jr. QB /Daniel Wilson Jr. RB Springfield– POY Watson accounted for 5 TD's (3 passing, 2 rushing) on 12 of 14 passing for 187 yards, with 57 rushing yards. Wilson has been a bright spot for the Millers this season rushing for 179 yards on 18 carries and 2 TD's, in Springfield's 46-0 win.
Tanner Earhart So. RB/ Chase Mauk Sr. RB Dallas– Earhart rushed for 219 yards, while Mauk added 61 yards and 4 TD's, as the Dragons blasted Corvallis 54-38 on Friday.
Willy Pflug Sr. QB/Caden Carter Jr. RB Sunset– Pflug went 15 of 25 for 273 yards and 4 TD's in their 49-27 win over Beaverton. One of the state's top Jr's rushed 23 times for 163 yards and a TD.