Click for Eric Orange Highlights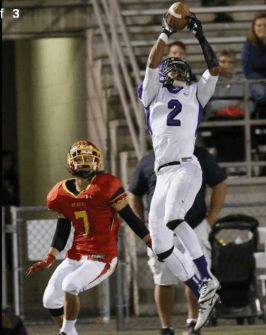 The Pasco Bulldogs haven't been the talk of the town in recent years, so it would be very easy for high caliber athletes to slip through the recruiting cracks. An athlete that has slipped through most of the cracks is Eric Orange ('15).
Orange is described as hard working both on and off the field, and sports a 3.71 GPA to prove it. Thus far the senior has 38 receptions for 524 yards and five touchdowns, but he is always looking to get better.
" I do whatever it takes to get my self in a better position," Orange told NEI. "I believe working hard isn't going to get you everywhere, but working smart will.
"I constantly try to improve my speed because it will make me more of a threat (offensively) and more difficult to guard, or it would be extremely difficult for their QB to throw the ball in my direction (defensively)."
At 6-foot-2 and 190 pounds, Orange has the physical tools to be an elite level wide receiver. He runs in the 4.5 range in the 40-yard dash, and with a tremendous leaping ability, he is a mismatch for most defensive backs.
"There are only two words I would use to describe my game which are fast and clean," Orange said. "I don't like doing sloppy work, I'm a mini perfectionist. I will practice the same route until it is perfect so I can make it harder to defend.
"I will practice my off hand jam until it is accurate and I hit him where I want every time."
Orange was born and raised in Inglewood, California, and moved to Pasco during his freshman year. The Bulldogs went winless during Orange's sophomore and junior seasons, but have turned things around and are showing signs of an up-and-coming program.
"The team win is more of an achievement because I've been working with these guys for a long time," Orange says. "I know it sounds like a cliché, but these guys are my brothers. We have our ups and downs, some fights, but at the end of the day they know I will out work the guy across from me."
While recruiting has been a bit on the light side, he has seen some interest from Washington State, Idaho, a few big sky schools, and even the Ivy League. He has taken a visit to Washington State, and plans on heading over to Idaho for their game against New Mexico State.
When all is said and done, Orange is an athlete that is highly recruitable. He stands out on the field, in the classroom, and is an athlete coaches will go to bat for.