Click for Austin Brisbee Highlights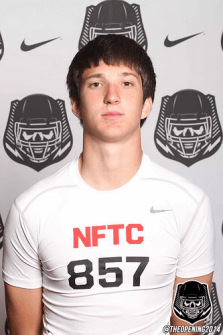 If we are talking Oregon Player of the Year candidates, Westview QB Austin Brisbee (6-3 180 15′) is one of the first names that comes to mind.
The returning Metro League Co-Offensive Player of the Year has gone off this season, throwing for 2,387 yards and 29 TD's/5 INT's thus far, as the Cats are (6-1) and ranked #7 in the state. With continued progression he has a chance to break multiple records.
Referencing the season Brisbee says, "I think we are shocking a lot of people with what we are doing, and I am really proud of the young guys who have stepped up". Adding, "I would like to win out in league, make a run in the playoffs, and break the state record for passing yards." (Taylor Barton 4,046 – 1997′).
Westview went down to the wire a few weeks back at #4 Jesuit, losing 49-44, while being up in a back and forth game. The Wildcats have a chance to make a run come playoff time as they are legit up and down the board.
Teagan Lind (6-4 215 15′ TE) and Ian Myers (6-3 220 15′ TE/DE) are one of the elite TE combo's in the region, although Lind went down early in the season with an injury. Samori Toure' (6-1 165 16′. WR) and Mason Elliott (6-2 180 17′ WR) have stepped up and are two of the top young wide receivers in the state, with senior Trevor Bovero (5-9 185 RB 15′) being one of the most underrated players in Oregon.
There are a host of athletes that have been clutch for the Wildcats, but Austin has been the glue . Expect to see more and more universities visiting Rock Creek as he has hit on 70% of his passes, and put himself in a position to be considered one of the top quarterback's in conference history. We will keep you updated as the season continues.