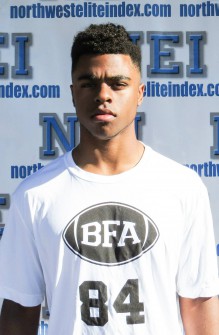 Great news out of Kirkland tonight, where Salvon Ahmed ('17) of Juanita High School has picked up an offer from the University of Washington. This is offer number two overall for Ahmed, who was offered by Montana State over the offseason.
"I was in shock, I just feel extremely blessed," Ahmed told NEI. "When we got there all the coaches were in the lobby and they just started yelling and clapping, I had no idea what was going on. We go into coach (Chris) Petersons office and he was telling us how great of a school UW is and what they are looking for in a person and in football.
"Then he told me I am what they were looking for and then he said 'We would like to offer you a scholarship.' "
Ahmed is a tremendous all-around athlete, excelling at multiple positions on both sides of the ball. He said the coaches did not mention which position they see him in the future, just that he was excited for the opportunity.
"It means the world to me," Ahmed said. "I'll be honest, growing up I wasn't a real big UW fan, but after meeting the new coaching staff during the summer I fell in love."
This offer could really open the flood gates for the highly talented sophomore, as multiple schools are showing interest, including most of the Pac-12. Look for Ahmed to receive a plethora of offers before signing day, which is still well over two years away.
Right now Ahmed is focused on closing out his season with the Rebels. They are 5-2, currently ranked 10th in our 3A rankings, with games against Liberty and Interlake still left on the regular season schedule.
We will keep you updated on Ahmed and the Rebels, as there will surely be more news in the future.