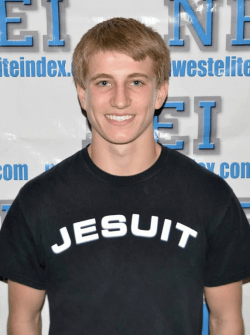 If we are talking about athletes that just get the job done, Junior Eric Restic (6-0 165 16′ QB) of Jesuit is one of the first names that comes to mind. He is a very humble, yet determined kid, that could go do down as one of the top QB's in Crusader history with continued progression.
He helped the Crusaders reach last years state title game as a sophomore and has a legit shot of helping his team get back there this season saying, "I think we have a good chance to contend for a state championship". Adding, "The senior's on our team have really stepped up this year, especially on the line where we only returned two starters."
Restic has had a phenomenal season thus far accounting for 1400 yards passing and 17 TD's/4 INT's. He has hit on 65% of his passes (90/139), and helped Jesuit remain versatile in what is traditionally a very run heavy offense. Eric says, "Last year we were able to ride Joey Alfieri's back all the way up to the playoffs, but this year I feel we have been way more balanced and defenses have to account for that."
Most know the Crusaders started 7 sophomores in last years state title game, in what is a special 2016 class. Eric is key to this group as he is a leader in every sense of the word. He carries a 4.06 weighted GPA, and isn't afraid to take off and lower his head if it means getting some extra yardage.
Give credit to Coach Potter for letting Restic do his thing from an early age. Jesuit is a regional power and not an easy place to start for three seasons. The Junior receiving core is legit with Jordan Happle and Zach Houlemard being two of Oregon's best, although Houle has played more D this year. Matt Ferguson, Tanner Tropio, and Wyatt Nelson are other receivers who are some of the top athletes in the Metro for their class.
The Crusaders are (6-2) and ranked the #4 team in the state, with two close losses to #1 Central Catholic and #6 Sheldon. In closing Restic says, "The goal moving forward is to play to the best of my ability every game, so I can spread out the defense and open holes for Chase and Jason". He continued, "This team wants a state championship badly after our tough loss last year.. It's a bitter taste but it serves as good motivation for us to win it all."