As you look up and down the board there has yet to be a QB offered for the 2016 class within Oregon. That could change shortly.
Talented kids with size and overall athleticism are featured, as this group has the potential of being one of the best to ever come through the state. Have a look at some of the Northwest's top Junior quarterbacks and what they have done in 2014.
Sam Noyer 6-4 200 Beaverton– Noyer has everything that you could want in a Division 1 quarterback. He earned all conference honors as a sophomore and had a phenomenal off season on the camp circuit.
Sam has heard from multiple D1's, including the likes of Oregon St, Oregon, Washington, Washington St, BYU, Wyoming and others. He will once again be working with one of the nation's top quarterback coaches this off season in Taylor Barton and could thrive under his guidance.
Going into the final week of the regular season the Beavers were (5-3) with Sam hitting on 58% of his passes for 1,719 yards and 16 TD's. Noyer is another kid with all of the intangibles coming from an impressive family. His oldest brother Matt is on staff with the Ducks, with his other sibling Taylor being a standout baseball player at the division 1 level.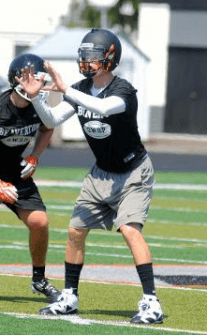 Justin Herbert 6-5 205 Sheldon– Before all is said and done Herbert will have multiple options at the D1 level. He is all of 6-5 and can beat you with his arm or on the ground.
In three short games before injury Justin showed some of that "It" factor that can't be taught. He hit on 48 of 75 passes (64% Com Pct) with 10 TD's and 0 interceptions through 2 and 1/2 contests. His brother Mitch was the state's leading WR in 2013, going for 21 TD's and over 1000 yards, now starting at Montana St as a freshman. He has outstanding genes with his father Mark also being a D1 athlete and former Duck.
Justin is a three sport kid, starting on the 2014 Irish runner up state championship baseball and basketball teams as a sophomore. The injury was unfortunate, but Herbert should be considered one of the top dual threat QB's on the west coast. He will be back shortly.
Mitch Verburg 6-3 195 Lake Oswego– I can't say enough good things about Mitch. He will be a three year starter for the Lakers, no small feat at a traditional Northwest power such as LO. Verburg is a kid with an upside that won't quit, as both Barton and Alex Brink feel he projects at the next level after working with him last off season.
Mitch is one of the better baseball players in Oregon, but has all of the tools to be a Division 1 quarterback. He has 16 passing TD's on the year for an LO team that is just coming into it's own with 9 starters missing the first three weeks of the season.
Trever Watson 5-11 195 Springfield– If we are talking about the exception to the rule when referencing undersized D1 QB's, Watson might be just that. The returning MWC Player of the Year as a Sophomore, has put up video game like numbers through the course of his career.
in 2013 he accounted for 3500 yards (2800 passing, 700 rushing) and 46 TD's/3 INT's. This season he has helped the Millers to their first conference title in 50 years, going (8-1), while being ranked the #2 team in the state at the 5A level.
So far this year Trever has gone for over 2500 yards and 26 TD's (17 passing, 9 rushing) with the entire post season ahead. He has never missed a varsity snap since his freshman season and continues to maintain a 4.0 GPA. He is hands down one of the most impressive kids in the region.
Taylor Jensen 6-5 180 Forest Grove– Jensen comes from a football family as the son of a head coach. He earned 1st team all league honors as a sophomore and has the size and overall athleticism needed to be a high profile kid at the next level.
Jensen was the other QB, opposite the nation's #1 ranked Skinny Eason (Lake Stevens, WA), on BFA's 7 on 7 travel squad that went to Las Vegas last off season. So far this year Taylor has thrown for 1,671 yards and 17 TD's. He is a student of the game and a kid with a very bright future.
Gabe Matthews 6-2 200 South Salem– Maybe Oregon's breakout athlete of the year. Gabe has gone off in 2014, helping the Saxons to a (9-0) record and a GVC title.
Matthews has accounted for 37 TD's (28 passing, 9 rushing) with 2,566 total yards (1991 Passing, 575 Rushing). He is currently a favorite for conference player of the year honors. Gabe has been a three sport (Basketball, Baseball) varsity starter since his freshman season, something almost unheard of at the 6A level. He is also one of the better kickers in Oregon.
If we are talking about overall athleticism, here is your poster boy. Most thought there wouldn't be a player the likes of Maximo Espitia (Now at CAL) to ever come through the South program again. This could be the closest thing to as Matthews is the real deal.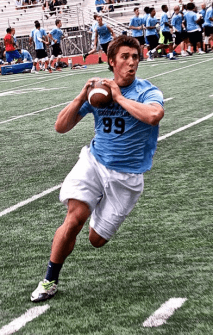 Eric Restic 6-0 165 Jesuit– Restic is just a fearless leader. He is the guy that everyone wants to have on their team. Eric is a proven winner helping the Crusaders to last years state title game as a sophomore, while also just clinching back to back Metro League titles.
Going into the regular season finale he had completed 65% of his passes for 17 TD's/4 INT's, and 1400 yards. He has a 4.06 weighted GPA, and has Jesuit (7-2), and ranked the #4 team in the state. The 2016 Crusader class is special and he will be a primary reason if they are to win a championship.
Chase Crawford 6-3 190 Tigard– We only got a glimpse of what he can do as Chase has been backing up talented senior JT Greenough. That said the glimpse was enough to solidify him as one of the top junior quarterbacks in Oregon.
Crawford went 11 of 14 for 163 yards and 2 TD's (1 rush, 1 pass) in the Tigers (9-0) 41-36 win over LO a few weeks back. Most in the Tigard system have to wait their turn as they are just that deep. Look for Chase to have a big off season as the kid is incredibly legit.
Blake Walker 6-4 180 Liberty– Blake is currently leading one of the hottest teams in the state. The Falcons are (8-1) and ranked the #5 team in 5A, after losing their season opener.
Walker earned 2nd team all league honors as a sophomore and has outstanding size to boot. He will be a three year starter on what has turned out to be their best team in school history.
Wyatt Hutchinson 6-0 175 Clackamas– Another kid that has had a phenomenal season, helping his Cavs to a (7-2) record. Most didn't give Clack a chance with the departure of a very talented senior class but Wyatt has stepped up and made things happen.
On the year he has gone 96/169 for 1,315 yards and 11 TD's, while also rushing 86 times for 330 yards and 5 more scores. Without his presence Clackamas would not have had the year they have thus far.
Matt Struck 6-3 215 Crater– Struck is a big kid that can throw darts. The Comets have struggled but he can play. He has gone 148-247 (60%) for 1,702 yards and 9 TD's on the year.
Look for Matt to be a presence on the camp circuit over the off season, as he possesses some of the size and athleticism needed to play at the next level.
Dante' Reid 6-2 190 Tualatin– The T Wolves might be the best (0-9) team in America as the Three Rivers League is comparative to the SEC within Oregon. Dante' had a relatively impressive season and can sling it. In what was an incredibly tough year Reid is a bright spot and a kid you can build around.
Carson Spitznagel 6-0 175 Central Catholic– He has backed up Sean Dack this season but Carson can play. On the year he has completed 57% of his passes for 238 yards and 3 TD's/0 Int's. Look for him to have an impressive off season for the top ranked Rams as CC will once again be legit on a national level next year.
Brody Cooper 6-1 175 Marist– Cooper was a 2nd team all league kid as a sophomore, but went down with an injury early this season. Brody is a talented kid and should thrive in Geske's system once he returns.