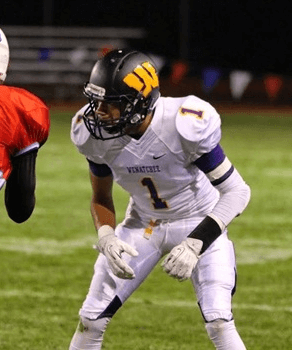 Every week I get emails from around the state about various athletes. Emails from Parents, college coaches, high school coaches and sometimes people who randomly attended a game.
Lately the name I have been hearing the most is Chase Resch ('15) of Wenatchee High School.
In a week eight win over Moses Lake, that clinched a Big Nine title, Resch carried 24 times for 203 yards and a touchdown, while also hauling in three interceptions.
Those three interceptions brought his career total to 17, and placing him in a tie for the school record.
"It means a lot, the person that holds the record is our Running back coach, Coach Skalisky," Resch told NEI. "I definitely have my eyes set on breaking it but at the same time I will definitely not let getting one last interception get me distracted from the ultimate goal of winning the next game."
While being recruited exclusively as a defensive back, Resch does enjoy playing on either side of the ball.
"Personally I like both equally," Resch said. "In the past two years I was a more defensive guy and not playing as much offense as I do now. I like defense because I have to try and stop the other team from scoring and I like challenges and getting the rush of someone trying to run me over or trying to catch a ball on me.
"I like offense because I have to think and I get to use my instinct to read blocks."
Resch has been an All-Big Nine defensive back the past two seasons, second team as a sophomore, and first team during his junior year.
Recruiting is picking up, as Resch is seeing interest from the likes of Idaho, Eastern Washington, Montana and Northern Arizona. He recently took a trip to Montana for a game, and will be returning, while also planning trips to visit both Eastern Washington and Idaho, all unofficially.
Right now, Resch is concentrating on his senior season in Wenatchee. The Panthers are 8-1, with their only loss coming in a week two bout with defending state champion Chiawana, but they are staying focused on the task ahead and reaching their goals.
"My goals are to keep improving my play and help my team get as far as we can go," Resch noted. "You should look for us to play our game and be putting up a fight with whoever lines up on the other side of the ball.
"I know that myself, and the rest of my teammates, are looking forward to playing in big games, like the ones we have coming up, we are really fired up."
As the Big Nine champion, Wenatchee receives a week 10 bye into the state tournament, where they will face with winner of Skyview @ Skyline.
We will be sure to keep you updated on Resch and the Panthers, as they look to have what it takes to make a strong run in the state tournament.