Kobey Eaton Sr. WR/S Evergreen (WA)- One of Washington's top safeties had an impressive year offensively, catching 6 passes for 156 yards and 2 TD's in the loss to Mt View.
Zach Parker Sr. CB/WR Lake Oswego– The returning 1st team all league DB did his thing against cross town rival Lakeridge, grabbing 2 INT's and a TD reception, in the 37-14 win.
Kellen Strahm Sr. QB/DB Sheldon– Not even sure where to begin with this kid. He is typically better then everyone else on the field. As deep as the SWC is he should be the leading candidate for conference player of the year honors, as the Irish wouldn't be 8-1 without him. He helped his team secure a 21-14 victory over a very talented North Medford group on Friday. Kellen rushed 26 times for 192 yards and 2 TD's, while going 9 of 18 through the air for 108 yards.
Jordan Happle Jr. WR Jesuit– One of Oregon's top Junior's continued his breakout year offensively , after dominating defensively as a sophomore. He finished the regular season catching 10 passes for 138 yards and a TD. This has been the most impressive year for any Crusader WR since OSU/NFL standout Mike Hass torched the state a decade ago.
Hunter Mattson Jr. RB Corvallis– One of the fastest rising Jr. backs in the state. He rushed 39 times for 261 yards and 3 TD's in the 45-39 win over South Albany.
Tim Tawa So. QB West Linn– Tawa has played as well as any QB in the state regardless o classification. He threw for 345 yards and 5 TD passes, also rushing for a score in the 49-28 win over Canby.
Jack Bauer Sr. RB Union (WA)- Bauer is one of the more underrated kids in Washington and continued to do work on both sides of the football. He rushed for 135 Yards , with 123 coming in the second half, as the Titans clinched 2nd place in the GSHL with the win over Skyview
Ethan Snow Jr. WR Hermiston- Snow has been one of the breakout receivers state wide. He caught 8 passes for 155 yards and 3 TD's in their 63-14 win over Pendleton.
Gabe Kerlegan Sr. Slot South Albany– Isaiah & Gabe Kerlegan are one of the top brother combos in the region. Gabe caught 15 passes for 162 yards and a TD in what turned out to be a season ending loss to Corvallis.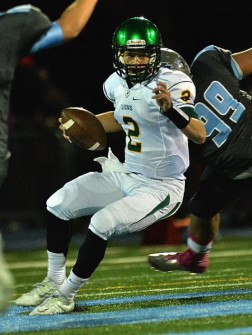 Austin Brisbee Sr. QB Westview– Brisbee needs less than 900 yards to break the state's all time passing record set by Taylor Barton. He went 26 of 43 for 436 Yards and 3 TD's in the (8-1) Wildcats 47-22 win over Aloha.
Sirgeo Hoffman Sr. RB Gresham– Hoffman has just gone off this year. He rushed 39 times for 273 yards and another 4 Td's in the 27-7 win over David Douglas.. He has totaled 1751 yards and 22 TDs on the year.
Trevor Huddleston Sr. WR/ Wyatt Harsh Fr. QB Woodland (WA)- Huddleston had an unreal night catching 6 passes for 240 yards and 2 TD's (72,88), including an 88 yard kick return. Freshman phenom Harsh capped off an incredible regular season for the Beavers with 351 yards passing, and 5 TD's (3 passing, 2 rushing).
John Bledsoe So. QB /Kyle Cornett So. WR Summit– The elite sophomore combo helped the Storm finish the most impressive season in school history going (7-2). Bledsoe threw 4 TD passes, with Cornett catching 3 more in their 41-13 win over North Salem.
Elijah Molden So. RB/ Cody Coppedge Jr. WR/ Connor Berggren Jr. WR West Linn– One of the top young underclassmen trios in the region. Coppedge caught 11 passes and a TD, while Molden & Berggren went for over 100 yards and 2 TD's each from Tawa.
Wilsonville D– The Wildcats beat an undefeated Hillsboro team 12-0, with one of the most impressive defenses performances to date. They will open the playoffs at Central
Justin Enseki-Frank RB Marist- Frank rushed 26 times for 134 yards and a TD in a last second defeat to #3 Springfield 27-24. The talented senior will be key if the Spartans want to make a playoff run.
Noah Terando Sr. Slot South Medford– The senior receiver had a career night catching 11 passes for 170 yards and 3 TD's in the win over Thurston.
Mike Irwin So. QB Mountain View– The Crook County transfer continues to kill it. He rushed 12 times for 153 yards and 2 TDs in the IMC clinching 23-12 win over Bend.
Chase Morrison Sr. RB Jesuit– Week in and week out he continues to rack up numbers. Morrison rushed for 214 Yards and 5 Td's in their 49-13 beat down of Beaverton.
Springfield– The Millers (8-1) won their first conference title in nearly 50 Years (1967), with the 27-24 win over Marist. Coach Dave Heuberger has done a phenomenal job resurrecting the program.
Preston Jones Jr. RB Mountain View (WA)- The talented junior was close to seven TD's, finishing with 6 scores on 217 yards rushing. The Thunder beat Evergreen 45-22.
Bunker Parrish So. QB / Alani Troutman Jr. WR Redmond– One year after winning 1 game the Panthers finished strong blasting returning 4A champion Ridgeview 39-16. The 200 pound sophomore QB was 7 of 10 for 193 yards, while rushing 16 times for 84. Troutman averaged over 30 yards per catch, on 5 receptions for 159 yards and 2 TDs.