**This list is a way to showcase the weeks top performances. I am sure I missed a few and would like to know the ones I did. You can either comment on here or send me an email at Ringerland@gmail.com, and I will be sure to add them.**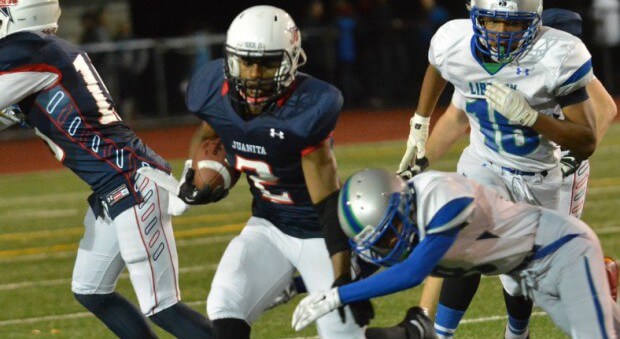 .
Salvon Ahmed, ATH '17, Juanita – Ahmed continues to show why he is being recruited by Pac-12 schools, as he carried 21 times for 380 yards and finished with five touchdowns, as the Rebels topped Interlake 42-28. Juanita gets a home playoff game this week against the winner of the Lakes/Sumner/Enumclaw three-way tiebreaker.
Chico McClatcher, ATH '15, Federal Way – Here is your weekly Chico update… He ran for 354 yards and six touchdowns on 32 carries, as Federal Way hammered Kent-Meridian 77-21. The Eagles no face off against the Mariner Marauders of the Wesco conference in a round-of-32 game.
Matt Shirley, WR '15, Peninsula – Shirley had a huge game as the Seahawks capped an undefeated league run with a 59-28 win over Bonney Lake. The senior standout finished with 487 all-purpose yards, four touchdowns, and was voted at the NEI Elite Performance.
Robert Kvinsland, QB '15, Peninsula – The senior gunslinger had another great night for the Seahawks, as he finished 15 of 19 passing for 289 yards and four touchdowns. Kvinsland is one of the state top QB's in the 2015 class, and could be making a case to be a D1 athlete.
Brett Rypien, QB '15, Shadle Park – Rypien had another huge night, finishing 31 of 42 passing for 349 yards and three touchdowns, bust the Highlanders fell to Mount Spokane 28-21. It was a milestone night for Rypien, as his 3rd touchdown pass was the 100th of his HS career.
Cole Stephens, ATH '15, Lakeside – Stephens did a little bit of everything for the Lions in a 49-42 win over Nathan Hale. The senior had 167 yards rushing on 27 carries and four touchdowns, and also hauled in seven catches for 80 yards and another score. Two of his five touchdowns came in OT, including the game winner.
Austin Joyner, RB '15 / Killian Page, RB '15, Marysville Pilchuck – Joyner carried 20 times for 193 yards, Page carried 19 times for 225 yards, and each scored three touchdowns, as the Tomahawks topped Meadowdale 55-34. The win gives Marysville Pilchuck the Wesco 3A Championship and a #1 seed this week, when they play hose to the Seattle Prep Panthers.
Bryce Williamson, RB '15, University – Another huge week for one of the state's top backs, as he finished with 211 yards on 42 carries and four touchdowns. The Titans topped Central Valley 35-23 in the "Greasy Pig Game" for the first time in 11 years, and knocked the Rams out of playoff contention.
D'Angelo Faust, ATH '15, Lindbergh – Faust is one of the state's more versatile athletes, being able to play on either side of the ball, as well as in the return game. This week he finished with 18 carries for 256 yards and two touchdowns, as the Eagles handled the Renton Indians 21-0.
Colin Montez, RB '17, Marysville Getchell – Montez has made a few different appearances this season, this time he carried 18 times for 274 yards and five touchdowns, as the Chargers scored a 48-28 win over the Lynnwood Royals.
Braiden Beckman, LB '15, Kentridge – One of the state's top all-time tacklers had 12 more this week, along with a blocked FG, and the Chargers scored a 7-6 win over Mount Rainier. Beckman is now up to 155 tackles on the season.
Brett Rankin, WR '15, Emerald Ridge – The Jaguars finished SPSL South play undefeated with a 38-15 win over Spanaway Lake. Ranking finished with seven catches for a school record 218 yards and two touchdowns. Emerald Ridge plays host to Eastlake this Friday.
Dre Dorton, ATH '15, Chiawana – Dorton is a dynamic all-around athlete, and can beat you in a variety of ways. This week he scored three touchdowns, three different ways. First he scored on a 48 yard run, then a 17 yard INT return, and capped it off with a 32 yard reception, all in the first half. The Riverhawks blasted rival Pasco 83-7.
Shannon Edwards, RB '15, Graham-Kapowsin – The senior back capped off a great regular season with 191 yards on 16 carries and three touchdowns. The Eagles beat up Bethel 35-13, and are the SPSL South's #2 team, receiving a home game this week vs Monroe.
Ruvim Tyutyunnik, QB '15, River View – Tyutyunnik is one of the more underrated QB's in the state, and does a little bit of everything for his team. This week he completed 21 of 30 passes for 323 yards and five touchdowns, as the Panthers downed Kiona Benton 41-7.
Michael Key, RB '15, River Ridge – Key and the Hawks have had an all-around magical season. They beat Steilacoom 37-27 this week, to secure the SPSL 2A's #2 berth into the round-of-32. Key finished with 124 yards on 28 carries and three touchdowns.
Mike Fuller, RB '15, Puyallup – Fuller carried 10 times for 129 yards and three touchdowns, as the Vikings blasted rival Rogers 35-0. The win put Puyallup into a tie for the final playoff spot, but they lost to point differential tiebreaker to Bethel.
Reese Jones, RB '17, Othello – The Huskies are still alive for the final CWAC playoffs after beating Toppenish 28-13. Jones finished with 209 yards rushing and three touchdowns. The sophomore scored on runs of 41, 7 and 24 yards.
Dyonte Law, RB '15, Mariner – This is the second time Law has made the list in the last few weeks, this time he carried 20 times for 191 yards and four touchdowns. The Marauders beat Snohomish 41-40 in a winner to the playoff, loser goes home game. They will travel to Federal Way this coming week.
Emmery Porter, ATH '15, Ingraham – Porter is an unknown, as Ingraham hasn't been real good the last few years, but the senior can flat out play. This week he had 282 yards rushing on 16 carries and two touchdowns in the Rams 40-18 win over the Franklin Quakers.
Kobe McDaniel, QB '16, Snohomish – The junior finished 24 of 36 for 369 yards and two touchdowns, but the Panthers lost 41-40 and will miss the playoffs. McDaniel is an under-the-radar prospect in the 2016 class.
Connor Wedington, RB '17, Sumner – One of the state's top sophomore athletes had another good week. In a 43-13 win over Auburn Riverside, Wedington scored three times, and finished with 138 yards rushing.