Cade Smith Sr. QB West Salem– Smith is now the leading rusher in school history and one of the most versatile QB's in the west. He totaled 360 yards (188 Pass 172 Rush) and 5 TD's in the 47-21 win over Beaverton.
Nathan Hawthorne Sr. ATH Columbia River (WA) – Hawthorne earned conference player of the year honors in back to back seasons. He caught 8 passes for 86 yards and 3 TD's, also picking off a pass against Garfield in the win.
Cordell Moore So. RB West Albany– The talented underclassmen came up big replacing one of Oregon's top Jr RB's in Jeff LaCoste. Moore rushed for 184 yards and 2 Td's as West came back to win 16-6 over PIL Champion Grant.
Cam McCormick Jr. TE/OLB Summit– One of the top Junior's on the West coast had a good night in the 41-29 loss to Marist. Fresh off his 1st Pac 12 offer from Arizona McCormick caught 2 Td's and will have a busy off season ahead.
Jordan Happle Jr. WR Jesuit– Happle has had one of the most impressive seasons in some time. The Junior had his way with the Gopher secondary, hauling in 3 TD's and 214 receiving yards.
Zac Shomler Sr. QB Skyview (WA)- Shomler had the game of his life , hitting on 35 of 51 passes for 437 yards and 4 TD's, in one of the most memorable comebacks to date. The Storm won 34-31 in 2 OT's over Skyline.
Kyle Weinberg Jr. QB Ashland– The 5-9 QB has played well this season. He went 13-19 for 298 Yards and 2 Tds, and rushed for 63 yards and 2 more scores, in the Grizzlies 52-22 drubbing of Hillsboro.
Richie Mock- Seratt Jr. RB Oregon City– Oregon's best running back you might not know about yet had his 2nd good week in a row. He rushed 16 times for 224 yards and 2 TD's in the 38-6 win over McNary.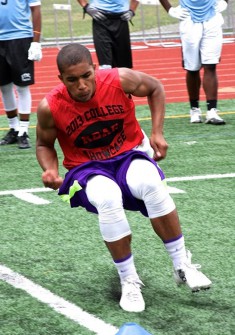 Kellen Strahm Sr. QB Sheldon– The Strahm brothers will go down as one of the top combo's in NW history as Kellen has continued what his brother Connor started. He rushed for 322 yards and 3 TD's in the 34-14 Win over Canby.
Javan Appling Sr. Grants Pass– Appling has been one of the state's best as the Cavemen are super legit. He went 19-24 for 241 yards and 4 Td's/0 Int's in the 77-14 win over Barlow.
Troy Fowler Sr. QB North Medford– One of the best players in Black Tornado history got the playoffs started right, hitting on 22 of 31 pass attempts for 308 yards and 3 TD's/ 0 Int's.
Landon Floyd Sr. RB / Tyler Walker Sr. RB Tigard/Sam Inos Sr. ATH– The Tigers feature one of the top trios in the region. Inos is ranked Oregon's top athlete and got in the end zone through the air. Floyd (8-188-4) and Walker (19-183-3) rushed for 371 yards, and 7 TD's.
Hunter Mattson Jr. RB/ JD Laswell Sr. ATH Corvallis– Mattson has had a phenomenal junior campaign, rushing 34 times for 206 yards , and catching 3 passes for 80 more and a score. Teammate Laswell caught 5 passes for 102 yards and 2 TD's (51,22). This duo helped the Spartans beat top ranked Mt View 42-28.
Jonathan Boland Sr. QB Parkrose– Boland could go down as the top player in school history. He was 27 of 44 for 305 Yards and 2 TD's in the 26-14 loss to #3 Springfield.
Quinn Cota Jr. QB Marist– The converted athlete continued to do outstanding work from the QB spot. He rushed 17 times for 138 yards and went 7 of 10 passing for 196 yards 4 total Td's (2 rushing, 2 passing)
Hermiston Defense– The Bulldogs went on lock down mode defensively, giving up 56 yards of offense in the 17-0 win over Sandy.
Zach Wilbur Sr. RB / Derek Parnell Sr. ATH Southridge– Wilbur had a big night out of the backfield rushing 24 times for 115 yards and 2 TD's, including the game winner in overtime. Parnell continued his outstanding season, locking up multiple Saxon receivers.
Hunter Davis Sr. QB / Dominique Peek Jr. RB– Davis was in control all night and had a great close to his career, going 23-31 for 405 yards. Peek will be one of Oregon's top junior's returning next season, catching 2 TD passes (25,32).
Holden Catlett Jr. ATH Lakeridge– In one of the craziest playoff games ever the junior scored 6 TD's (5 rushing) as the Pacers best Westview 79-67.
Elijah Molden So. RB/ Cody Coppedge Jr. WR West Linn– Molden is just flat out ridiculous and could very well hold offers from every top university in the country before all is said and done. He rushed for 3 TD's on Friday, with Coppedge continuing his tear and catching 2 more.
Jeremiah Wright Jr. WR Skyview (WA)- Wright had 2 late TD's in the Storm's big comeback, double overtime win, over traditional state power Skyline 34-31.
Connor Neville So. QB Wilsonville– The highly touted Sophomore QB went 13 of 22 for 292 yards and 2 TD's in the Wildcats 31-22 win at #6 Central. They will advance to the quarterfinals to play a red hot (9-1) Springfield team.
Caleb Browning Sr. RB Union (WA)- Browning has been a fixture on this list. He rushed 18 times for 134 yards and 3 TD's as the Titans dismantled Curtis.