Click for Ben Puapuaga Highlights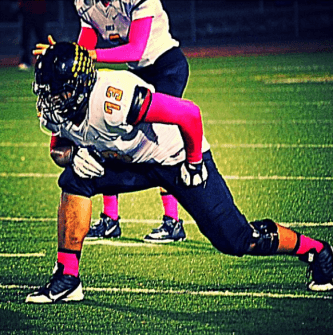 Great news out of Tacoma (Wash.) where lineman Ben Puapuaga of Lincoln High School has picked up an offer from the University of Montana.
"I was at home," Puapuaga told NEI. "I came home from practice had and two letters from Montana, the first one I opened it said that you are receiving a athletic Scholarship for 2015 season.
"Honestly it feels great to finally have an offer and to say that I made my dad proud."
This could be the first of a few offers for the 6-foot-4 inch, 285 pounder, as he is also hearing from other Big Sky schools, including Eastern Washington and Montana State.
Even with this offer and the other interest, we feel Puapuaga is still a bit under-the-radar, as his film is just beginning to circulate.
The senior is currently listed as one of the top offensive lineman in the State of Washington, and could see his status increase as his stock continues to rise.
Puapuaga was named the Narrows 3A Lineman of the Year, while sporting a 3.7 GPA, and should end up as a member of the All-State team before all is said and done.
Currently the senior does not have any visits lined up, but does plan on getting out to Missoula soon.
For now Puapuaga is focused on helping his team move on to the next round of the state tournament. This Friday night the Abes play host to the O'Dea Fighting Irish in a game that matches the #2 (Lincoln) and #4 (O'Dea) ranked teams in the 3A classification.
We will keep you updated on Puapuaga and the Abes, as they make a run towards the Tacoma Dome.