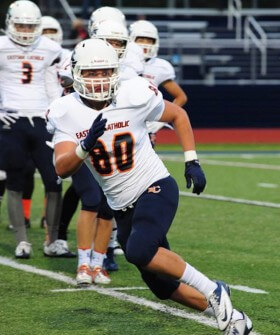 News coming out of Sammamish (Wash.) where Eastside Catholic's Connor Heger has committed to play next year for Elon University.
Elon is a liberal arts university in Elon, North Carolina, about a half hour east of Greensboro. Their football team, the Phoenix, play in the Colonial Athletic Association of the FCS.
"When I went to their camp and toured the school, the coaches and the people at Elon were genuine people whose message was the same," Heger told NEI. "They wanted to build a great community and family at Elon. They want kids that are smart, great students, great athletes, and great people.
"I saw that not only do the admissions people value this but also the coaches, they aren't just concerned about who is the best athlete but they want great football players who are great people also and thats a community that I want to be a part of."
The 6-foot-2, 220 pound Heger will be playing Tight End for the Phoenix, and certainly has the athleticism. During the offseason Heger has participated in the Barton Football Academy's Elite Events, and performed so well he was extended an offer to join their 7-on-7 team that went to Las Vegas.
All that being said, Heger was moved to the offensive line this season at Eastside Catholic, a move he knew would help his team.
"The transition to center has certainly been tough this year," Heger said. "I know that having me at center allows our team to put the best football players on the field offensively. I trust Coach Thielbahr and his decisions he makes and I have had faith since spring ball that everything would work out and that I would be successful at center.
"Plus I knew that we are trying to put ourselves in the best position to win a state title, something that I think we have done a great job at so far."
This week the Crusaders are home to face off against the Meadowdale Mavericks in the first round of the state tournament. This is a rematch of a quarterfinal game from 2013 that saw Eastside Catholic win 21-16, on way to a runner-up finish at state.
Connor has been nothing but a class act from the first time I met him and I wish him the best of luck not only the rest of this season, but in the future at Elon. In closing, Heger wanted to say thanks to those who have helped him along the way.
"I obviously have to thank my parents, the support and effort that they have put in to help me be successful is truly astronomical," Heger says. "I also want to thank my coaches at Eastside, they have truly been some of my greatest mentors and taught me lessons I couldn't have learned anywhere else.
"I also have to give a big shout out to the Barton football coaches, especially Greg Prator and Mike Bush, they have helped me tremendously to improve my skills over the past 3 to 4 years and I appreciate their patience and the knowledge that they have shared with me."