Click for Cameron Saffle Highlights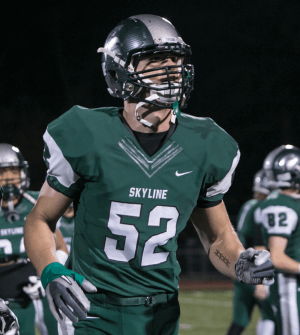 Great news from the Sammamish Plateau where Cameron Saffle ('15) of Skyline High School was recently offered by both Eastern Washington University and the University of California, Berkley.
"I am very blessed to have received offers from both eastern and Cal this week," Saffle told NEI. "To have my first Pac 12 offer feels incredible. I'm excited that I have another opportunity to go play college football but also to have received a free education.
"Never expected that these opportunities would be presented and I am just grateful I am experiencing them."
The Eastern Washington offer was one Saffle has had coming for a while. He has been in contact with the Eagle Coaching staff for a while, most notably defensive line coach Ryan Sawyer.
"Coach Sawyer and I had a great talk," Saffle says. "He loved my film along with the whole coaching staff. Told me I could possibly tight end and defensive end for them which was very cool to hear. He just wanted to shake my hand, as well. He and I had been talking for a while and then he offered me a full ride to go play football for them.
"(I) told eastern as well that I would love to come visit the campus soon and come watch a game. I plan on doing that soon."
As for the California offer, it may have been a little more unexpected. He had been receiving plenty of mail from the Golden Bears, but really had not had much communication.
Saffle called defensive line coach Fred Tate, and things really took off from there.
"I knew Coach Tate was coming by," Saffle said. "All he wanted to do was shake my hand and size me up a little bit to actually see if I was 6'3 and then some, and 220 pounds. He told me I passed his eye test and said my film was great and everyone else loved my film and he said they would like to offer me.
"Then we talked about taking an official visit in January and about how Coach Tate will fly up December 1st for an in home visit and then in January having the head coach and maybe so other coach's fly up for another in home visit."
Saffle adds these to earlier offers from Idaho and Air Force, and could be adding more in the near future, as he is hearing from Washington State, Washington, UCLA, Utah State and Montana.
"I'm still sending my film out to different schools," Saffle noted. "I can't stress how awesome it is just to be considered by any school to play college football for regardless of what school. All these schools I've been offered by are all equal in my book.
"I'm just doing all my research on all these school and considering a bunch of different factors."
We wish Saffle the best and will keep you updated, as he is likely to receive more offers before all is said and done.