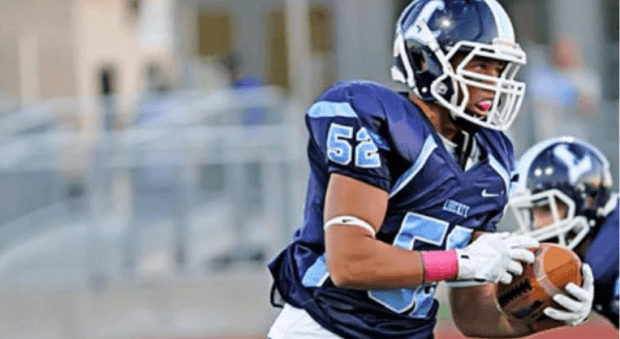 Trey Neal Jr. DL Hermiston– Neal showed why he was named the conference player of the year, absolutely dominating from his D tackle spot. The 6-3 240 pound lineman looks like one of the top Junior's in the state.
Kellen Strahm Sr. QB/ATH Sheldon– Strahm is an Oregon Player of the Year favorite and one of the top dual threat kids ever to come out of the conference. He accounted for 8 TDs, going 22 of 30 through the air for 249 yards and 4 touchdown's. He also rushed for 63 yards and 4 more scores in the 56-34 win over Oregon City.
Tim Tawa So. QB West Linn– The TRL Player of the Year went 17 of 26 for 399 yards and 5 TD's, giving him 37 passing touchdowns for the season. The recent Stanford baseball commit has put together one of the top season's for any sophomore in state history.
Wyatt Harsh Fr. QB/ Trevor Huddleston Sr. WR Woodland, WA-Harsh is one of the top freshman in the Northwest, finishing the year with 1,931 yards and 24 TD's. He hit Huddleston for 3 TD's in the 28-21 loss to WF West.
Silverton Defense– The Fox D is ridiculous. They have allowed 58 points on the season and only 12 in the last 5 games. They would be one of the better 6A teams in the state.
Devin Thompson Jr. LB /Kaelin Himphill Jr. LB /Brayden Bafaro Jr. LB/Lucas Landaverde Jr. LB Liberty Linebacker's– The Falcons feature one of the NW's elite young LB groups. They played lights out on Saturday and will come back next season featuring fast and athletic backers with size.
JT Greenough Sr. QB Tigard– Greenough is a very talented QB and one of the more under recruited kids in the region. He was once again very efficient hitting on 10 of 13 passes for 266 yards and 3 TD's in the 42-20 win over Sunset.
Cameron Scarlett Sr. RB Central Catholic– One of the nation's top players had 16 touches for 275 yards and 5 TD's in their 59-16 pasting of West Albany.
Cade Smith Sr. QB West Salem– Cade has put together a season very similar to his brother Brett, the former Oregon Gatorade Player of the Year. He rushed 13 times for 103 yards and a TD, while hitting on 10 of 16 passes for 156 yards and 3 touchdown's.
Sam Kuschnik Sr. RB Silverton– One of the best players in 5A rushed 26 times for 157 yards and a TD in the 28-0 win over Ashland.
Trever Watson Jr. QB Springfield– Watson was named the MWL player of the year for the 2nd straight season, passing for 242 yards and carrying the ball 23 times for another 183 in the 56-47 win over Wilsonville.
Keegen Hlad Sr. WR West Salem– Oregon's top ranked senior receiver has put together a phenomenal season, catching 2 more TD's, and now pushing 20 for the year.
Mason Rivers Sr. RB Sherwood– Rivers rushed for 178 yards and 2 TDs in the 31-14 win over Lakeridge. He is one of the more underrated RB's in the state.
Zak Shomler Sr. QB / Bryson Enge Sr. WR Skyview WA– Shomler hit on 26 of 47 passes for 299 yards and 3 TD's in the 41-27 loss to Wenatchee. Shomler had outstanding back to back weeks to close the year, with Enge grabbing 7 passes for 112 yards.
Javan Appling Sr. QB Grants Pass– Appling has been clutch all year long. The Cavemen will be heavy favorites to advance to the state semi's as Javan went 15 of 26 for 227 yards and 3 Td's in the 28-21 come from behind win over Lake O.
Marlon Brown Sr. RB Junction City– Brown rushed 31 times for 251 yards as the Tigers almost pulled off the upset losing 28-21 to Gladstone.
Lance Peterson Jr. QB– Peterson is a talented overall athlete and will come back as one of the better 2016 QB's next season. He hit on 16 of 25 passes for 249 yards and 2 Td's in the season ending 42-28 loss to Marist.
Kurt Moon Sr. TE West Linn– Moon was ranked our #2 TE coming into the season and he is showing why late in the year. The 6-5 big man caught 3 passes for 165 yards and 2 TD's.
Chase Morrison Sr. RB Jesuit– Morrison just gets better as the season moves along. He rushed 26 times for 208 yards and 2 TD's in the 35-21 win over North Medford.
Springfield Defense– The defense gave up 47, but ended up with 5 INT's. Coach Heuberger is one of the best in the region and will get an opportunity to play one of the state's top overall teams regardless of classification in Silverton.
Connor Berggren Jr. WR– One of Oregon's breakout junior performers. Tawa continues to drop dimes and Berggren has been a primary recipient opposite one of the best WR's in the west in Cody Coppedge. Berggren caught 6 passes for 138 yards and a TD.
Cam Lucero Sr. QB/ Luke Lucero Sr./Drew Matthews Sr. ATH North Bend– Cam went 13 for 17 through the air for 307 yards and 5 TD's , with Luke carrying the ball 22 times for 146 yards. He also caught an 86 yard TD pass. 4A Player of the Year favorite Drew Matthews hauled in 4 passes for 49 yards and a TD, being double and triple teamed all night.